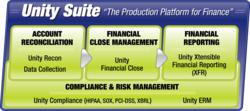 The Trintech suite is a powerful tool for monitoring, controlling and automating the Last Mile of Finance - account reconciliation, financial close management and financial reporting.

Glenn Inniss, Logica Finance and Procurement BPO
London, UK / Dallas, TX / Dublin, Ireland (Vocus/PRWEB) March 22, 2011
Leading IT services company Logica has formalized its partnership with financial software provider Trintech, making Trintech Logica's preferred software solution provider for General Ledger Accounting and Cash Reconciliation BPO.
Logica also uses Trintech's solution internally to manage their consulting billing and cash collection processes.
"Our Customers expect the business benefits of outsourcing key financial processes to deliver not merely cost savings, but also improvements in process efficiency, quality and compliance. To achieve this improved process, visibility and a reliable 'single version of the truth' are essential." Said Glenn Inniss, Logica Head of Finance and Procurement BPO. "The Trintech software suite is a powerful tool for monitoring, controlling and automating the Last Mile of Finance including account reconciliation, financial close management and financial reporting. It significantly strengthens our ability to support customers in both operational and strategic areas of their business."
"Logica is the latest BPO provider to join the Trintech partner program. Outsourcing partnerships are a key component to Trintech's accelerated growth strategy. The BPO sector is one of the fastest growing market segments for F&A. Recently, analysts forecast the BPO market to be $29.3B by 2013 (source Datamonitor; Black Book of Outsourcing)." Said Paul Byrne, CEO, Trintech. "In the market for outsourcing, financial executives need to have full visibility over the accounting process to ensure it is managed in a diligent, controlled, and compliant manner. With the escalating demands for faster close and increasing compliance requirements, Trintech solutions have never been more important to our clients and partners."
About Logica:
Logica is a business and technology service company, employing 39,000 people. It provides business consulting, systems integration and outsourcing to clients around the world, including many of Europe's largest businesses. Logica creates value for clients by successfully integrating people, business and technology. It is committed to long term collaboration, applying insight to create innovative answers to clients' business needs.
More information about Logica is available at http://www.logica.com.
About Trintech:
Trintech is the leading global provider of integrated software solutions for the Last Mile of Finance. From the time a transaction occurs to the time financial statements are issued, Trintech's innovative Unity Suite automates data collection, account reconciliation, financial close management, financial reporting, XBRL, and financial control testing. As a result, our 600 clients and 100,000 users worldwide benefit from an enterprise wide view into critical financial processes, and are able to increase efficiency, improve visibility, shorten cycle times, lower costs, and reduce risk.
Trintech clients include 50% of the Fortune 50 and nearly 25% of the Fortune 500 representing retailers, manufacturers, financial institutions and healthcare providers globally. Trintech clients include Intel, Google, Microsoft, RR Donnelley, Regis Corporation, Walmart, O2, Blackstone, BAE Systems, Skype, HSBC and Toyota Financial Services. Spectrum Equity Investors acquired Trintech in a take-private transaction in December, 2010.
For more information on how Trintech can help you transform your Last Mile of Finance, please contact us online at http://www.trintech.com or at our principal business office in Dallas, Texas, or through an international office in Ireland, the United Kingdom, or the Netherlands.
Trintech • 15851 Dallas Parkway, Suite 900 • Addison, TX 75001 • Tel 1 972 701 9802
Trintech UK, Ltd. • 2nd Floor • 4-6 Throgmorton Avenue • London EC2N 2DL • Tel: +44 (0) 20 7628 5235
Trintech Technologies Limited • Suite 13B, Classon House, Dundrum Business Park • Dublin 14, Ireland • Tel +353 1 298 4472
Trintech • Cypresbaan 9 • 2908 LT Capelle a/d Ijssel, The Netherlands • Tel +31 (0) 10 8507 474
Trintech Press Contact:
EMEA: Carol Orr – Marketing Manager
Phone: +1 +44 (0) 207 382 0490 - Email: carol(dot)orr(at)trintech(dot)com
Dallas: Patrick Ferguson – Marketing Manager
Phone: +1 972 739 1617 - Email: patrick(dot)ferguson(at)trintech(dot)com
###