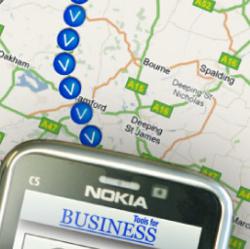 Providing our software exclusively online we are able to provide almost any business easy to use, practical solutions to everyday business problems at a very low cost
Ipswich, UK (PRWEB UK) 24 March 2011
Panaramix Ltd. launch their 'Tools for Business' range of mobile business applications on Nokia's OVI Store with their Business Mobile Tracking Application.
Keith Varty, Head of Apps, Nokia UK said "The OVI Store offers apps for everybody. The Panaramix Tracker is a great example of our enterprise solutions that are there to help the SME. In this case, managers can improve productivity, whilst the employee benefits from improved security, which is great for the whole organisation."
This first 'Tools for Business' [TfB] offering on OVI provides businesses with an accurate GPS personnel tracking tool which can also double up as a very low cost fleet monitoring solution.
Central to the TfB range of apps is the desktop management portal which businesses can log into and manage their remote resources via the app downloaded to their mobile devices in the field.
"With labour, fuel and general running costs making things tougher across the board, businesses are looking for ways to increase operational efficiency and reduce their costs – without significant capital outlay. The Tools for Business applications work equally well with 3 to 300 users in the field - businesses can download the app and be up and running instantly with our support team ready to help with any questions every step of the way"
"Working with Nokia and the OVI Store supports our 'download only' policy which cuts out costly 'physical' distribution channels and all that they entail, keeping pricing low as well as being great for the environment," states Chris Everitt, MD at Panaramix Ltd.
The solution is fully configurable to suit individual work patterns to ensure employee's privacy is not compromised and there is no limit on the amount of devices that can be added to an account.
Panaramix applications are not subject to a contract or minimum term and this application when downloaded from OVI Store costs just GBP £3.00 inc. taxes for the application and includes the first month's access to the desktop management portal. Access to the management functions are then charged at £4.99 per month for each device on the account .
Upcoming features include workload planning, management and reporting as well as mobile utilities such as time sheets, live access and updating of job details.
Early adopters of this initial application will receive additional management and mobile features at no extra charge as they become available through OVI Store in exchange for feedback for development of new features.
About Panaramix Ltd.
Panaramix Ltd. offers low cost 'out of the box' mobile applications to businesses across the globe via its 'download only' policy.
Panaramix aims to penetrate global markets exclusively using low cost, online distribution of its apps to leverage the mobile device into a formidable 'real life' business tool whilst reducing the environmental impact of its own and its customer's business activities.
# # #