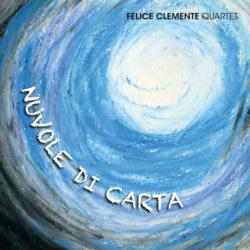 Los Angeles, CA (Vocus/PRWEB) March 21, 2011
"Nuvole di Carta" marks the eighth release from Italy's critically acclaimed Felice Clemente Quartet. Available March 20th on Crocevia di Suoni Records. Nuvole di Carta (which translates to "Paper Clouds") is impeccable, contemporary Jazz recording featuring superb musicianship and intelligent improvisation reminiscent of such masterful players as Joe Lovano, John Coltrane and Branford Marsalis.
Recorded and mixed at ArteSuono Recording Studios - Cavalicco (UD) Italy, Nuvole di Carta features such tracks as "The Courage to Try," "Paradossi" and "Inside Changes." The entire album highlights the Felice Clemente Quartet's exploration of beautiful melodies, great interplay and approachable themes -- while masterfully utilizing odd time signatures to create approachable musical motifs.
"Nuvole di Carta is my heartfelt tribute to young friend -- a beloved friend who left us at a very young age," says Clemente. The title, 'Nuvole di Carta' alludes to the fusion between dreams (the clouds) and their realization (paper). Through my musical notes transcribed on paper, I wanted to give a shape to my friend's dreams."
Based in Milan, the Felice Clemente Quartet was formed in 1998 by award-winning saxophonist/clarinet-player and composer Felice Clemente. Performing live across Europe, the Felice Clemente Quartet has played at such high-profile venues as the Blue Note, Milan and Rome's La Palma Club. In addition, the Felice Clemente Quartet has appeared at some of Europe's most prestigious Jazz festivals including: Terni in Jazz Fest, Classicum Jazz in Rome, Ronciglione Jazz Festival in Viterbo, "Gezziamoci" Basilicata International Festival in Matera, Brianza Open Festival in Milan and No Borders Italian Jazz Festival Gubbio.
The Felice Clemente Quartet includes:

Felice Clemente – Tenor and Soprano Sax
Massimo Colombo – Piano
Giulio Corini – Double Bass
Massimo Manzi – Drums
For more information, please visit: http://www.feliceclemente.com
To preview the album, please click here.
BFM Digital, Inc.
BFM Digital is a global digital music company committed to serving the independent music community and delivering quality music, spoken word and video content to leading online retailers worldwide. Representing a diverse catalog of indie labels, artists and publishers, BFM distributes to all of the major music services including iTunes, Amazon, Rhapsody, eMusic, Napster, Walmart, Nokia and many more. With an unparalleled commitment to personalized service, BFM works closely with their content providers from around the world to ensure maximum exposure of their catalog by customizing marketing efforts and building strong relationships with BFM's digital store partners.
# # #