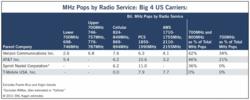 (Vocus/PRWEB) March 22, 2011
If regulators approve the AT&T / T-Mobile USA deal--a big if--42% of total US subs would be writing checks to AT&T for wireless services, making it by far the US's largest mobile operator by subs. Verizon Wireless currently has a 34% market share of subs in the US.
While rhetoric has focused on the benefit to AT&T of acquiring more spectrum from the deal to alleviate its notorious network constraints, we think this is largely smoke and mirrors considering T-Mobile USA's spectrum holdings are in the less valuable higher frequencies of 1.8GHz or higher.
AT&T Mobility already has 21% of its MHz Pops covered by lower spectrum and more efficient 700MHz which it has yet to utilize but is expected to for its upcoming LTE 4G service.
We think the Deal is more about greater scale for AT&T which should improve operational efficiencies and hopefully its wireless fiscal performance.
About SNL Kagan
SNL Kagan, a division of SNL Financial LC, is a comprehensive resource for financial intelligence in the media and communications sector, including the broadcasting, cable, entertainment, motion picture, telecom, wireless, satellite, publishing and new media industries. The SNL Kagan suite of products integrates breaking news, comprehensive data and expert analysis into an electronic database available online and updated around the clock. For more information, visit http://www.snlkagan.com
###