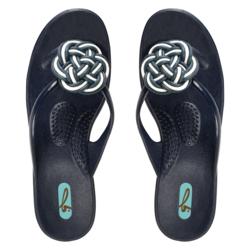 It's like I took the spa with me when I left. My feet have never felt better in a sandal!
-Carla L., NYC
Atlanta, GA (Vocus/PRWEB) March 22, 2011
Spring is the season of renewal and no one is prepared to jump in feet first more than Atlanta based OKA b. Footwear. Introducing a Spring/Summer 2011 collection that's as vibrant as it is upbeat, OKA b.'s newest offerings capitalize on a brighter future for all. With the majority of price points under $30, the 2011 collection is mindful of consumer spending while concurrently lifting spirits with its cheerful palette. Keeping the mood light and upbeat was the goal for this season's collection. "Our country has been in an economic slump that's affected everyone's mood, no matter what the market," says Kelly Schmidt, Vice President of OKA b. "And we're finally starting to turn the corner and see our nation prosper. We wanted our collection to reflect that hope, that positive outlook, and to give people something to smile about as they step into spring."
Inspired by the candy colored hues of springtime, just a sampling of OKA b.'s spring styles include the Tiffany with contrasting animal print bows, the Erin stacked with floral-shaped leather rings, the Anita adorned with matching striped and solid bows, the Angelica with leather flowers, and the Alice with layered patent flowers, just to name a few. The nautical-inspired Tara is outfitted with a coiled rope pendant while this season's Madison Brights are the ultimate foot candy, wrapped in cheerful whimsy in a variety of patterned grosgrain bows.
As with all of OKA b.'s offerings, shoes in the 2011 Spring/Summer Collection feature the company's signature reflexology inspired massage beads and ergonomic footbeds, are waterproof, antibacterial and seamlessly designed, made from one piece of the company's proprietary recyclable Microplast™ material. They are also eco-friendly and manufactured in a low waste factory outside of Atlanta.
Visit http://www.shoesthatloveyou.com
For additional information, high-resolution images or samples, contact pr(at)shoesthatloveyou(dot)com.
About Okabashi Brands, INC. – OKA b. is a division of Okabashi Brands Inc., a domestic designer, manufacturer and marketer of fashion footwear with an ergonomic design. The company's core competency is to make shoes that are attractive, comfortable, durable, eco-friendly and priced under $50 in retail. The company manufactures Okabashi sandals sold at major chains at under $15 per pair, and OKA b. footwear, sold at top-end resorts and spas in addition to independent retailers, at prices ranging from $25 to $50. The company is headquartered in Buford, GA.
# # #