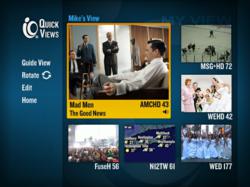 Personalized Quick Views on iO TV transforms the viewing experience by allowing our customers to literally create their own customized channels, providing up to 20 real-time displays of the programming that matters most to them."
Bethpage, NY (Vocus/PRWEB) March 22, 2011
Cablevision Systems Corp. (NYSE: CVC) today announced the launch of personalized iO TV Quick Views, an innovative value-added enhancement that allows digital cable customers to create up to 20 personalized mosaics, each displaying up to nine of their favorite TV channels at once.
Much more than just programming a set of "favorites" to surf through with a remote control, personalized Quick Views gives customers the ability to create composite channels based on personal viewing preferences, interests or specific family members. In addition to displaying and allowing one-click navigation to programming, iO TV Quick Views allow customers to see future listings information and even schedule DVR recordings.
"Personalized Quick Views on iO TV transforms the viewing experience by allowing our customers to literally create their own customized channels, providing up to 20 real-time displays of the programming that matters most to them," said Gary Schanman, Cablevision's senior vice president of video product management. "This innovative service, which is not available from any of our competitors, combines the power of immediately being able to see what's on, scan TV listings and even schedule DVR recordings in a simple and easy-to-use interface."
Personalized iO TV Quick Views are available at no additional charge on channel 600. Customers can select from more than 140 channels and create mosaics displaying 2, 6 or 9 TV channels, each mosaic viewable on every television in the home. The service includes sample pre-set and consumer-editable mosaics featuring news, sports and children's programming to help customers get started.
Channels created through iO TV Quick Views allow customers to see what's on now and in the future, and instantly select an upcoming program for DVR recording. While viewing the mosaic, the audio of the highlighted channel box is activated, and customers easily rotate the view or tune to the selected channel by pressing the Select button. In addition, consumers can also use the Quick Views service as a custom channel guide, featuring the entire day's programming from only the favorite channels they have selected.
iO TV Quick Views, developed by Cablevision, leverages the unique capabilities of ActiveVideo Networks' CloudTV platform to combine personalization and live video. Quick Views joins more than 25 applications that Cablevision has deployed on CloudTV over the last two years.
About Cablevision
Cablevision Systems Corporation (NYSE: CVC) is one of the nation's leading media and entertainment companies. Its assets include cable television operations that provide industry-leading services to more than 3 million New York are households. A state-of-the-art cable system enables the company to offer a full suite of premier residential and business communications services that include its iO TV® digital television, Optimum Online® high-speed Internet, Optimum Voice® digital voice, Optimum WiFi® wireless Internet, and its Optimum Lightpath® integrated business communications solutions. Cablevision also delivers advanced video, voice and Internet services to more than 300,000 households in Colorado, Montana, Wyoming and Utah. Through Rainbow Media Holdings LLC, Cablevision operates several successful programming and entertainment businesses, including AMC, IFC, Sundance Channel, WE tv and IFC Entertainment. Cablevision serves the New York area with compelling local content through News 12 Networks, a local news leader; MSG Varsity, a suite of television and online services covering high school activities; and, Newsday Media Group, a business unit that includes Newsday, Long Island's leading daily newspaper. The company also owns and operates Clearview Cinemas, which includes Manhattan's famed Ziegfeld Theatre, a frequent and historic venue for film premieres and events.
# # #