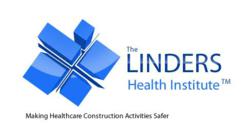 A fundamental legal question known to litigating and construction attorneys is:

What is the possibility that a root cause investigation of a HAI resulting in injuries or death could be traced back to construction or renovation?"
Orlando, Florida (Vocus/PRWEB) March 23, 2011
The Linders Health Institute™ is pleased to announce that registration has started for their special training course, Fundamentals of Infection Control Risk Assessment. The class will take place over two days, March 24 and 25, in Lake Mary, Florida. The program is designed for architects, engineers, contractors, attorneys, facility managers and other professionals who work in the healthcare industry. Additionally, the course will be offered in May at Test America's Training Center in Chicago.
Airborne pathogens which result in healthcare acquired infections (HAIs) are a greater threat than many people realize, according to Marlene Linders, President and CEO at The Linders Health Institute™. "The costs to patients and care givers in terms of mortality, days of work lost, and legal fallout demonstrate how imperative it is that building professionals understand what they're dealing with. It's difficult to overstate the significance of infection control."
Participants who attend the training will come away with a more profound understanding of infection control and risk management for construction and remodel projects in urgent care units, hospitals and long-term care facilities. The course will introduce a number of key issues, including hospital safety and healthcare associated infection; multi-drug resistant organisms (MDROs); environmental risks associated with air ventilation during construction; and the financial costs of HAIs. In addition, attendees will have an opportunity to learn how to define a safety program for the workplace to minimize the threat of infectious disease.
Ms. Linders encourages attendance for everyone engaged in building and construction in a healthcare environment. "Airborne pathogens are invisible, silent killers. Knowledge and understanding of the threat are critical to minimizing risk." Successful completion of the training offers CE for many industry disciplines.
The Linders Health Institute™ is the sole course provider for infection control certification for Best Practices in construction. Their course is accredited by the American Council for Accredited Certification (ACAC), formerly the American Indoor Air Quality Council. The Linders Health Institute™ educates, trains and certifies professionals engaged in the construction and management of healthcare and hospitality facilities to help them with legal due diligence and compliance.
###