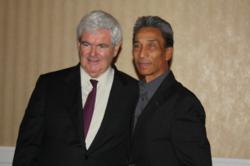 San Diego, CA (Vocus/PRWEB) March 23, 2011
Newt Gingrich former Speaker of the House and possible presidential candidate for 2012 visited and met with the San Diego Pastors and Christian leaders at a private event. It was held at the Westin Gaslamp Quarter Hotel in the California Ballroom C located at 910 Broadway Circle in downtown San Diego.
Newt Gingrich spoke at the podium and answered a few questions from the guests who attended. Gingrich said, "Thank you everyone. Thank you for your friendship." He spoke about his family, his father and early childhood. Gingrich reminisced about his grandma who was a profound disciplinarian and a Catholic.
Newt Gingrich informed the audience on how our society has increased liberal views, and how it has metastasized through the campus, news media, secular judicial system, etc. Mr. Gingrich does not agree with the secular judges.
The wake up call began for Newt when the very core of the "Pledge of Allegiance" was being questioned. He replied and said, "One Nation, Under God, Indivisible." When Newt spoke about the ways and thinking of others such as secular atheist and said, "We must have a different approach, and you must make them think instead of telling them your opinion. Then they will think like your opinion."
Newt's worldly advise is paranoia to the left is a treatable phenomena. Newt said, "Good liberals are like Roosevelt. Keep quoting Roosevelt's to them."
Newt Gingrich has changed his religion to Catholicism. He is challenged by the thinking of others and easily comforts and gives a direct and meaningful answer by saying, "Have you considered Christ?" The audience clapped.
Notables that attended the event were Honorable Dennis Hollingsworth, former State Senate; Penny Harrington; Andrea Jones, Director of Outreach for Congressman Duncan Hunter, Jr.; Regina Garcia, StreamlineREO; Eddie Enriquez, co-founder of Concern Filipino American Club (CFAC) and member of FAR; Alex and Grace Lee, co-founder and president of Asian Heritage Coalition (AHC) and many others.
The event was organized by Pastor Jim Garlow, Anne Subi, Skyline Church, the Pastor's Rapid Response Team; Chair, ReAL (Renewing American Leadership).
---
Courtesy photo by Regina Ong-Garcia/SCCPRESS.COM.
LIKE us on Facebook https://www.facebook.com/pages/SCCPresscom/197660873581102?ref=ts
Photo from left to right: Former Speaker of the House, Newt Gingrich and Filipino American Catholic parishioner Eddie Enriquez.
# # #