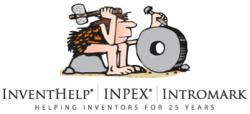 Pittsburgh, PA (PRWEB) March 25, 2011
InventHelp®, America's largest inventor service company, announces that one of its clients, an inventor from Pennsylvania, has designed an eating utensil which would allow for one-hand carving of food for users with a handicapped arm. This invention is patented.
The "Handy V" utensil would include a combined knife and fork head that could enable a user to hold down food while cutting. The design could eliminate the need for assistance, which allows for a user to avoid hassles and frustrations and instead maintain dignity. The ergonomic and easy to use features could enable a user to hold a newspaper in one hand and eat a meal with the other.
The Handy V utensil could be producible from aluminum or steel. The design is similar to that of a nutcracker as it features two hinged arms. A fork head would be attached to the end of the lower arm, and a knife head would be attached to the upper arm. Two of the knife head sides and end would be sharp or serrated for cutting. A user would hold the utensil in one hand and press the fork into the food for stabilization. Then the user would press the knife arm downward and move it back and forth to cut. The cut-off piece would be secured to the fork and could be raised to the mouth. According to the inventor, variations could include a serrated or sharp knife edge and a smaller version for medical use.
InventHelp® is attempting to submit the invention to companies for review. If substantial interest is expressed, the company will attempt to negotiate for a sale or royalties for the inventor. For more information, telephone Dept.09-HAK-435 at (800) 851-6030.
# # #