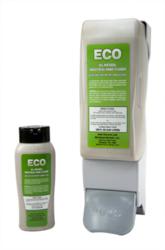 It does a great job of cleaning the dirtiest hands without drying them, and doesn't leave a strong smell
Cleveland, OH (Vocus/PRWEB) March 21, 2011
Martinson-Nicholls all-natural ECO Industrial Hand Cleaner cleans and conditions hands without drying the skin. This commercial hand cleaning soap will clean the dirtiest hands, and the concentrated formula reduces hand soap use by up to 75%.
Using all-natural walnut shell scrubbers rather than pumice, ECO Industrial Hand Cleaner removes stubborn dirt and stains including oil, grease, tar, ink, paint, stains, varnish, grass stains, dirt and grime, cement and adhesives, and even soot. The non-solvent, commercial hand soap contains skin emollients and conditioners to prevent drying and cracking of skin. It rinses away completely without any greasy residue, and contains no dyes or perfumes.
According to one customer, Sara B., "It does a great job of cleaning the dirtiest hands without drying them, and doesn't leave a strong smell."
ECO Industrial Hand Cleaner comes in two sizes: 3.55 liter bottles for use with a dispenser, or 18 oz., flip top dispenser bottles. Even these containers use recycled material in their construction. The large bottles come packed three to a case with one dispenser, while the smaller bottles come in a case of 12. The smaller size is also offered in a sample pack containing two bottles.
About Martinson-Nicholls
Martinson-Nicholls, has established itself as a leader in custom anti-slip tape, floor mats, and eco-friendly products for more than 25 years.
Martinson-Nicholls provides the customer with the exact size matting needed--small, large, standard, nonstandard, special shapes and logos. Custom installations are also a specialty of the company.
Anti-slip safety tapes and treads are available in various sizes and textures from hand cut or die cut pieces to full rolls and special shapes. For more information, please visit http://www.floormat.com.
###