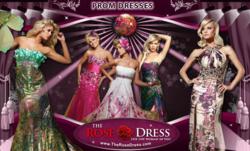 (Vocus/PRWEB) March 23, 2011
TheRoseDress.com is a shopping doorway to all fashion aficionados and a great crossing point that makes browsing a blissful experience. They have now expanded its family by carrying more collections from new designers. With its aim to provide the best online shopping experience, TheRoseDress.com now sells collections from Night Moves, Tony Bowls, Nina Canacci, Blush Prom and MNM Couture. Now TheRoseDress.com offers more varieties of dresses for every occasion. These new dresses from their new designers are very elegant and up to date and will be suitable for any event. The popularity of TheRoseDress.com has increased rapidly because it is known in the market, providing excellent customer service and offers large selection of latest styles in fashion. In addition to a wide range of designer dresses, TheRoseDress.com is proud to also offer fast delivery time, best-buy prices and a no-doubts customer service that allow customers to view the entire ordering process and easily track their UPS packages with a click of a button from the customer's record page.
Leading the pack, Alyce Designs stands above the rest, continuing to make a strong impression on the prom scene. The designers of Alyce Designs created several of different looks for every girl, dedicating some to the simple and elegant to the sexy and modern. Each design creates a story behind their meaning, and was creatively sewn to look like couture. The Rose Dress knows high quality when selecting dresses for their customers and Alyce Designs always make sure that they are top notch.
It is every woman's fantasy to have one extraordinary night where they relive their fantasies as a very beautiful princess in an elegant gown and spend an evening full of magic that lasts forever. Night Moves prom has a very large selection of beautiful dresses with different styles and only one of its kind aesthetics. All of their gowns are available in sizes 0 - 32, with the exception of our Women's Styles, which are available in sizes 14W - 32W. Night Moves intrigues their clients with the latest and top notch designs, as well as starring in several of teen publications: Seventeen, Teen Prom, and Teen Vogue. With such high announcements for their dresses, The Rose Dress wanted to include them into their collections of designers.
The newest addition to TheRoseDress family has come with a big bang. Tony Bowls is one of the most celebrated designers of all times. Tony's signature cocktail dresses, formal gowns and little black dresses are crafted from luxurious fabrics decorated with intricate hand-beading, Swarovski crystals and sparkling sequin. With four unique dress collections to choose from, there's a show-stopping special occasion dress for every fashionable woman. Tony Bowls has been a widespread name to many beauty pageants. Many beauty contestants have worn these fabulous gowns and made them take home the crown and the title. Aside from which, Tony Bowls dresses appeared to many TV shows and made a very big impact on titivating the show. Tony Bowls' dresses are not only winning pieces but they are also fresh and innovative for your prom. Tony Bowls puts the "high" in "high fashion."
Another high end designer has joined The Rose Dress family and that is Nina Canacci. Taking fashion to a whole new level, Nina Canacci emphasize on fresh designs and styles that have grown more breathtaking with each passing season. They have put great importance in celebrating womanhood and embracing beauty. Being at prom is a rite of passage that no one should fail to spot. Not only do they offer beautiful prom dresses for any young lady, but prices are very affordable, and they have many styles to choose from. Nina Canacci produces top-of-the line prom dresses, fabulous evening dresses, sexy short dresses, elegant homecoming dresses and divine wedding dresses. The latest collection of Nina Canacci exudes elegance and superb magnificence. Any pick from it will sure to be a hit on your next event. Nina Canacci ensures the consumers that they will get high quality dresses at a very reasonable price. During this design season, they continue to honor their commitments to quality and style at an affordable price. They also bring the formal apparel industry a host of exciting new designs, colors and styles that pay homage to the grace and beauty of women.
The highly anticipated stunning collection is finally here. Blush Prom is a highly-acclaimed collection of finest prom dresses. All Blush styles are custom-designed. The collection's goal is to make you as hot as a celebrity walking the Red Carpet at a movie premiere on your next event. Blush Prom understands the real needs of its clients and makes sure to surpass its great achievements during the past few years. Many years of excellent production have led Blush Prom to become as one of the designers that The Rose Dress carries. Your prom dress is ensured the proper fit, in the exact color and with the correct trim. Blush Prom produces high-quality dress with an affordable price. Blush prom wants you to look fresh, dramatic and a stand-out! Spectacular ball gowns, printed floral, oversized ruffles, crystal embellishments, cutout backs, as well as beaded matte-jersey from Blush Prom will make heads turn!
The last but definitely not the least on the list of our new designers is the very famous MNM Couture. MNM Couture is one of the leaders in producing premium formal dress, evening, special occasion, pageant, prom, and couture dresses. MNM Couture has quickly been recognized for its top-notch creations and exceeded expectations of design with their delicate concentration to detailing the female form. They have the best group of designers of diverse culture. They tirelessly collaborate and integrate their talents to produce massive, unique and cutting edge collections, making them a cut above the rest. MNM Couture has been recognized by different organizations and received countless awards for their exceptional dresses. Divergent to what many may think, it's likely to hit upon a couture prom dress. You read it right ladies just because prom is a huge event doesn't mean you have to spend a fortune on this once in a life time gown.
For girls who cannot afford the designers brands, The Rose Dress has also created a link so that young girls can still witness couture like dresses without having to pay the money for it. Inside the page are designers like Cinderella Divine, Nox Nariana, May Queen, and Aspeed who exceed the standards of modern day special occasion dresses. These designers are the leaders in their field and can revival the best of the best of the high end designers. Catering to all of their cliental, The Rose Dress has accomplish a great deal of satifaction for their customers allowing them to have the best of both world.
# # #