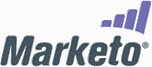 We look forward to leveraging Marketo's rich set of connectors and API's to help companies design and deploy innovative campaigns that significantly enhance revenue performance.
San Mateo, CA (Vocus/PRWEB) March 22, 2011
Marketo, the fastest growing provider of Revenue Performance Management solutions, today announced a collection of API's and connectors that allow businesses to integrate Marketo with multiple third-party applications and enterprise data repositories. Additionally, Marketo has secured agreements with Boomi, The Pedowitz Group, and Traction Sales and Marketing to help customers leverage the new capabilities in order to significantly increase revenue performance. This latest wave of innovation and partnerships further strengthens Marketo's solution for deploying complex, highly scalable, and high-performance RPM applications at mid-size and large corporations.
Marketo continues to accelerate momentum in the enterprise market. In the fourth quarter of 2010 alone, Marketo secured 9 new customers at corporations with revenue over $1 billion, and signed multiple million dollar deals. As these customers increasingly rely on Marketo to drive their revenue machine, they are looking to inject the Marketo platform with more types of enterprise data.
Businesses can use the new integration capabilities to rapidly access and leverage dozens of enterprise data sources on the Marketo platform – including Adobe Connect, Cisco Webex, Microsoft Dynamics, ON24, Oracle, SAP, Salesforce.com, as well as custom and legacy applications. Marketo's unique set of API's and connectors provide businesses with speed and flexibility – enabling businesses to quickly get the most out of their investments in integration platforms. By combining rich customer and prospect data contained in enterprise systems with Marketo, businesses can optimize their sales and marketing efforts to achieve explosive revenue growth.
"As a longstanding partner, we've clearly seen that Marketo is rapidly expanding its presence and momentum with larger customers," said Jeff Pedowitz, President and CEO, The Pedowitz Group. "These organizations maintain a diverse set of third party applications and information repositories that contain valuable data for increasing marketing ROI and sales effectiveness. We look forward to leveraging Marketo's rich set of connectors and API's to help companies design and deploy innovative campaigns that significantly enhance revenue performance."
Following are some of the ways businesses benefit from Marketo's new collection of API's and connectors:

Speed integration with CRM systems and other custom applications to further drive sales and marketing alignment
Leverage multiple third party integration platforms, including BizTalk, Boomi, and Pervasive
Augment lead and contact data from external services including Jigsaw and MK Denial
Leverage ERP, financial, and product data to drive more sophisticated segmentation and targeting in campaigns
Integrate with 3rd party event service providers (e.g. Cisco Webex) to streamline event registration and management.
"Today's announcement speaks to an important trend we are seeing amongst our enterprise accounts," said George Jaquette, SVP of Engineering, Marketo. "Increasingly, these organizations are turning to Marketo as their system of record for Revenue Performance Management, and are looking to bring more data from throughout the enterprise into the system. Our new collection of API's and connectors enable organizations to significantly enhance the value of their existing enterprise application investments, and allow them to rapidly deploy campaigns and applications that turbo-charge revenue growth."
To learn more about Revenue Performance Management, please visit Phil Fernandez's blog on Revenue Performance.
About Marketo
Marketo is the global leader in Revenue Performance Management. Marketo's powerful yet easy-to-use marketing automation and sales effectiveness solutions transform how marketing and sales teams of all sizes work — and work together — to drive dramatically increased revenue performance and fuel business growth. The company's proven technology, comprehensive services, and expert guidance are helping corporations around the world to turn marketing from a cost center to a business-building revenue driver.
Marketo has been recognized with the 2010 CODiE award for "Best Marketing Solution," the "Best Sales and Marketing 2.0 Solution" from SellingPower, and the "Best Marketing Automation Application" by Salesforce customers on the Force.com AppExchange. As of January 2011, more than 850 enterprise and mid-market clients globally have adopted Marketo solutions. For more information, visit Marketo.com, or subscribe to Marketo's award-winning blogs at blog.marketo.com/.
# # #