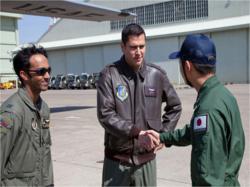 Because of our longstanding and close working relationship with our Japanese counterparts on a daily basis, we are able to coordinate Government of Japan requests and rapidly respond with critically needed capabilities and supplies in times of crisis.
Yokota Air Base, Japan (Vocus/PRWEB) March 22, 2011
A C-130 Hercules aircrew from Anderson Air Force Base, Guam, transported seven pallets of boron from Yokota Air Base to the Japan Air Self Defense Force at Hyakuri Air Base, Japan in support of Operation Tomodachi, March 19.
The boron was used to help stabilization efforts at the Fukushima Daiichi nuclear plant.
In the spirit of Operation Tomodachi, meaning friend, the U.S. Air Force remains focused on providing humanitarian assistance and disaster relief to the government of Japan. To date, Airmen have flown more than 180 missions and transported more than 3.2 million pounds of supplies and equipment in support of Operation Tomodachi.
For more information and photos from the airlift mission, visit http://www.pacaf.af.mil/news/story.asp?id=123247743
###