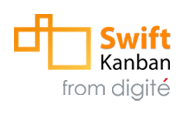 Mountain View, CA (Vocus/PRWEB) March 22, 2011
Digité, Inc., a leading Agile ALM vendor, announced the GA release of Swift-Kanban, the first in their Swift line of products. Swift-Kanban, a SaaS based Lean/ Kanban product, is aimed at organizations looking to implement Lean software development methods and to scale Agile in the enterprise with Kanban. Swift-Kanban helps organizations visualize their workflow, identify bottlenecks, and improve processes which deliver value to the stakeholders.
Announcing the release, Mahesh Singh, Sr. VP - Product for Digite said, "There has been noticeable increase in interest in Kanban from all business verticals. Kanban is being perceived as the Agile process framework that will help organizations scale Agile development methods at the enterprise level. We expect Swift-Kanban to provide the insight into their processes visually and facilitate in improving and optimizing them." Acknowledging the excellent response of the Beta-users who had signed up, he added, "We have had a tremendous response from our Beta users and we would like to thank them for providing valuable feedback that enabled us to introduce new features and improve existing features in our GA version."
Adding to that, Nitin Ramrakhyani, Sr. Product Manager for Swift-Kanban said, "Organizations will start to see the benefit when their teams realize their own capacity and work together to regularize the throughput. Swift-Kanban will be available as a SaaS as well as an on-premise offering; however, the current launch focuses on SaaS which is where our Beta users have shown most interest."
Key highlights of Swift-Kanban GA release

Online and Offline Notifications that keep you posted
Better Collaboration and Compliance
WIP Limits with more choices for best match
Average Work Time, Wait Time, and Block Time card metrics
Export and Import using MS Excel
Usability enhancements and many more features
Pricing and Upgrade
The existing Swift-Kanban Beta customers can continue with free usage of the GA version for maximum period of two months, after which they can convert to 'Paid' users, while new customers can avail a 30-day "free trial". To get a paid license for Swift-Kanban, contact our Sales team at sales(at)digite(dot)com. For more details on Swift-Kanban, please visit http://www.swift-kanban.com.
About Digite
Digite, Inc. is a leading provider of Agile Application Lifecycle Management products and solutions for the Global Delivery Model. Swift-Kanban and Digité Enterprise enable technology enterprises, big and small, successfully manage technology projects, products and applications. Digite facilitates asynchronous collaboration between globally distributed teams. Available in both SaaS and on-premise models, Digite products provide all critical functions needed by distributed software teams in a collaborative, integrated, web-based platform.
Digite is headquartered in Mountain View, CA.
For further information on this press release or other marketing inquiries, please contact Digité Marketing or 650-210-3949 or visit http://www.swift-kanban.com/ http://www.digite.com.
###