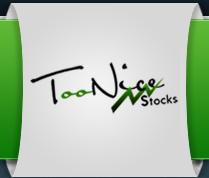 TooNiceStocks sees more Smallcap investors eying Corcept, especially with its NDA submission coming soon. However, this is the market and anything is possible.
New York, NY (Vocus/PRWEB) March 22, 2011
After Corcept Therapeutics released their final Phase 3 data for Corlux in mid-January and concluding a successful clinical trial. TooNiceStocks research has uncovered that the next anticipated milestone is submission of the New Drug Application to the U.S. Food and Drug Administration. Corcept Therapeutics plans to submit, with a priority review (6-months), end of first quarter. The FDA determines within 45 days after submission to grant priority review. Corlux is the first and only glucocorticoid receptor antagonist for treatment of endogenous Cushing's syndrome. Cushing's syndrome is a hormone disorder that can be caused by adrenal, pituitary or ectopic tumors constitutively stimulating cortisol production. Corlux's risk-benefit analysis compared to already limited treatments leads TooNiceStocks to believe priority review will be granted and eventual filing.
Digging Deeper into the Benefits of Corlux.
TooNiceStocks research found that the medical treatment for Cushing's syndrome is needed when surgery or radiation becomes ineffectual. However, current medical treatments come with high risk relative to efficacy. Majority of treatments consist of anticortisol drugs which has an advantage of direct measurement of cortisol levels. But the tolerability and risk of anticortisol drugs have to be taken into consideration. There have been reports of serious adverse side effects, heptotoxicity, gastrointestinal, and neurotoxic effects to name a few. Besides the adverse effects, the time it takes for therapeutic benefits to take into effect lags behind Corlux. Corlux yields both superior efficacies with minimal side effects.
TooNiceStocks research also found that in late December and early January, Corcept Therapetics released results for Corlux's Phase III primary and secondary endpoints. Both end points have achieved statistically significant results. The primary endpoint demonstrated Corlux improved symptoms for both patients groups. Also the drug was well tolerated in the trial; however, adrenal insufficiency, endometrial thickening and hypokalemia were reported, these symptoms can be ameliorated by clinical management. Although the secondary endpoint was not necessary, including and meeting its endpoint leads more credence to Corlux. Due to the fact its endpoint "global clinical improvement" assessment was by an independent three-member group, experienced in evaluating and treating patients with Cushing' Syndrome. Statistical significant improvement with minimal side effects, as well as, rapidly effective treatment in controlling hypercorticolism puts Corlux to be a superior drug.
TooNiceStocks believes with Corcept Therapeutics planning to submit the NDA at the end of first quarter and present detailed Phase III data at the Endocrine Society Annual Meeting (ENDO) on June 4-7 in Boston, these two catalysts will garner more attention to Corcept Therapeutics. If and when FDA approves the NDA, Corcept Therapeutics can see peak sales of Curlux upwards of $300M. TooNiceStocks sees more Smallcap investors eying Corcept, especially with its NDA submission coming soon. However, this is the market and anything is possible.
Thanks,
http://www.TooNiceStocks.com
"Finding Value in the Undervalued"
Every week we have our very popular technical reports. We work hard to research promising companies in all exchanges. Please join us for daily chatter. Real Traders + Real Research.
TooNiceStocks.com in no way has been compensated for advertising, marketing or profiling Corcept Therapeutics Inc., rather we have initiated our own independent research. The data stated in our research article is derived from publicly disseminated information. None of the profiles issued by TooNiceStocks.com, constitutes a recommendation for any investor to purchase or sell any particular security or that any security is suitable for any investor. Any investor should determine whether a particular security is suitable based on the investor's objectives, other securities holdings, financial situation needs, and tax status. Examples presented on TooNiceStock.com website are for educational purposes only. Such set-ups are not solicitations of any order to buy or sell. Accordingly, you should not rely solely on the Information in making any investment. Rather, you should use the Information only as a starting point for doing additional independent research in order to allow you to form your own opinion regarding investments. Please note well that TooNiceStocks.com employees are not Registered as an Investment Advisor in any jurisdiction whatsoever. Full disclaimer can be read http://www.toonicestocks.com.
###