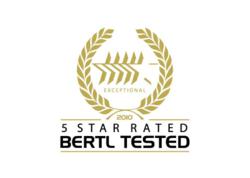 "We are excited to receive this highly sought-after honor for the exceptional bizhub PRESS C8000, which is earning industry recognition in every corner of the market," said Kevin Kern, Konica Minolta
Washington, DC (Vocus/PRWEB) March 22, 2011
Konica Minolta Business Solutions U.S.A., Inc. (Konica Minolta), a leading provider of advanced imaging and networking technologies for the desktop to the print shop, today announced its bizhub® PRESS C8000 Color Digital Press has received the highest possible product rating from BERTL, Inc.
The Business Equipment Research and Test Laboratories Inc. (BERTL) is an independent testing laboratory whose purpose is to provide objective, independent product evaluation reports and comparative analyses on imaging devices and software solutions. The BERTL "Exceptional 5-Star Rating" is only bestowed on industry-leading products, and positions the bizhub PRESS C8000 as the must-have color digital press for the production print marketplace.
"Konica Minolta has drawn the line in the sand and set a new quality of standard with the bizhub PRESS C8000," said Arthur V. Wynne, III, President, BERTL, Inc. "This feature-rich production system certainly steps up to the challenge and exceeds expectations by delivering an end-to-end production solution. Customers concerned with image quality and full production capabilities will find that the bizhub PRESS C8000 will not only meet their needs but exceed their expectations. BERTL analysts were very impressed with the image quality generated from the bizhub C8000 and the fact that no banding or streaking was evident in any of BERTL's test targets."
During the extensive product testing, the bizhub PRESS C8000 reached 5-Star Ratings in high profile categories such as finishing, media handling, printing, image quality and features. BERTL also mentioned the systems' security and workflow capabilities as well as its ease-of-use and configuration options with three different image controllers. BERTL concluded "the bizhub PRESS C8000 delivers market-leading innovation in the areas of productivity, reliability and workflow enhancement, and raises the bar in the production print industry."
This is the fourth time that Konica Minolta has received a major industry award on behalf of the bizhub PRESS product line. The bizhub PRESS C8000 was awarded the distinction of "2010 Color Product of the Year" by Marketing Research Consultants (MRC), the industry group that publishes leading office equipment trade journals, The Cannata Report and LiveWire. At GRAPH EXPO 2010, the bizhub PRESS C8000 was selected as a Must See 'ems Award Recipient. And even before its official launch, the bizhub PRESS C8000 was deemed an award-winner for its innovative technologies including a "Best of Show" Award during at ON DEMAND 2010 in the Color Digital Printing Equipment category.
"We are excited to receive this highly sought-after honor for the exceptional bizhub PRESS C8000, which is earning industry recognition in every corner of the market," said Kevin Kern, Senior Vice President, Marketing, Konica Minolta Business Solutions U.S.A, Inc. "With the independent voice of BERTL praising our flagship color digital press, print professionals can be even more certain about counting on Konica Minolta for all of their digital printing needs."
Witness firsthand the award-winning technology from Konica Minolta at the 2011 ON DEMAND Conference and Exposition (March 22-24) at the Walter E. Washington Convention Center in Washington, D.C. To reserve a spot at the Konica Minolta press conference, schedule a personal tour of the Konica Minolta Booth (#2400), and/or an executive interview, please contact James Norberto at JNorberto(at)kmbs(dot)konicaminolta(dot)us.
About Konica Minolta
Konica Minolta Business Solutions U.S.A., Inc. is a leader in advanced imaging and networking technologies for the desktop to the print shop. Konica Minolta has been named Supplier of the Year by both the Allegra Network and the National Association of Quick Printers (NAQP), as well as received the Sales Support Award from Mail Boxes Etc., Inc. For more information, please visit CountOnKonicaMinolta.com and follow Konica Minolta on Facebook, YouTube, and Twitter.
Konica Minolta is a registered trademark of Konica Minolta Holdings, Inc. bizhub is a registered trademark of Konica Minolta Business Technologies, Inc. All other trademarks mentioned in this document are the property of their respective owners.
# # #