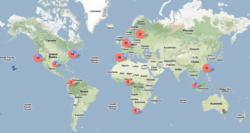 The technologies and solutions presented will help us secure the future creativity and growth of Nollywood artists and producers, entertaining millions of fans in Africa and beyond
Lagos, Nigeria (Vocus/PRWEB) March 23, 2011
Today the City of Lagos jointly with Living Labs Global announced the results of its first round evaluation of 245 entries from 127 cities in 30 countries, which was carried out by an international expert jury as part of the Living Labs Global Award 2011.
Shortlisted solutions are now invited to provide in-depth supporting information, leading to the announcement of a winner at the Stockholm Summit for Service Innovation in Cities on May 12 2011. The winner will be invited to carry out a full-scale pilot in the City of Lagos, to evaluate the impact of the solution and lead to broader implementations.
SHORTLIST
Hipertelevision & Mobile
Ubiquity Films & Releasing
EggUP.com | Sell your Films While Preventing Piracy
Vobile VideoDNA- Powerful Secure Media Distribution
3scale
"The technologies and solutions presented to us by global companies, entrepreneurs and researchers will help us secure the future creativity and growth of Nollywood artists and producers, entertaining millions of fans in Africa and beyond," says Dr Kadri Obafemi Hamzat, Commissioner for Science and Technology of the State of Lagos.
Entries were received in response to a call for pilots to fight rampant video piracy undermining the success of its native film industry. New technology solutions to protect intellectual property, provide more stable financing and secure more effective distribution are only some of the areas in which innovations may boost one of the region's most prominent industries.
Lagos predicts that advances in a number of technology areas, such as internet video-streaming, wireless internet, mobile media and video, digital watermarking, and mobile payments will make it possible to overhaul it's film industry's distribution and commercial models severely undermined by rampant piracy today.
Why Lagos?
Nigerias film industry, often referred to as Nollywood has been classified as the world's second most productive after India's Bollywood, bringing some 200 movies to the market per month. Nollywood has annual revenues exceeding USD 250 million, but suffers from rampant piracy in the region triggered by a combination of under-funded distribution systems, reliance on DVD / VCD sales in the absence of cinemas, and what is considered a lax attitude to intellectual property on the continent.
About the Living Labs Global Award 2011
Living Labs Global, a non-profit association to promote digital service innovation in cities, announces a joint Award with the Cities of Barcelona, Cape Town, Eindhoven, Lagos, San Francisco, Sant Cugat, Stockholm, and Taipei to choose the companies and organizations that have developed solutions that add high value to users in cities around the world. The Award is organised in partnership with Oracle and Farglory, with shortlists being announced on March 21st and the Winners presented at a Summit and Award Ceremony in Stockholm on May 12, 2011.
###