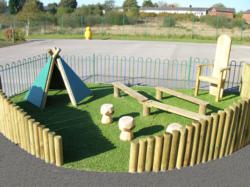 Natural surroundings can often compliment and become outdoor play equipment when children's imaginations are allowed to run freely
Bolton, Lancashire (Vocus/PRWEB) March 25, 2011
National Play Day has come a long way from its humble beginnings in 1986. Government cuts of play areas in and around the London area were rumoured, and a group of play workers held a meeting to see what could be done to prevent the losses. That first meeting, by all accounts, was a quiet affair, but over the last few years, National Play Day has snowballed from a few events held in the London area, to festivals, workshops and activity days held up and down the country.
Held annually on the first Wednesday in August, 2010's National Play Day was the most successful with over 850 different events and the organisers are aiming to make 2011's the biggest ever after earning support from many notable bodies, including The Child Accident Prevention Trust, The Grandparents' Association and The National Union of Teachers amongst many others.
The Lecturer in Playwork at the University of Gloucestershire, Wendy Russell: 'The benefits of children being able to play freely outdoors are enormous. There is so much more to play than learning skills for adult life. Research shows that play, being spontaneous, non-literal and not particularly aimed at any outcome, helps children to build a repertoire of response to the things they encounter in their lives as children.
In their play children deliberately seek out uncertainty (hanging upside down, getting dizzy, playing scary imaginative chase games and so on), the important thing being the emotions they can experience whilst doing this. This helps develop things like emotion regulation, peer and place attachments and stress response systems that makes for a better childhood as well as a better future.'
Robin Harwood, of Bolton based company Playground Imagineering, Playground designers and providers of playground storage solutions encourage National Play Day. 'The closure of council funded playgrounds and play areas has resulted in these 'free' facilities, such as playground furniture, being either not being updated at all to being closed and removed completely, leading to institutions involving the care and education of children to be relied upon to provide. This means that there's a smaller percentage of modern, safe and beneficial play areas available to children on a free basis, as they soon become reliant on the equipment provided by their school or nursery, and when children are playing outside, the chances are that they're not with their parents and older siblings and instead with classmates.
'One important aspect of play is that it should ideally involve other members of the family unit to help a child's physical and mental development. National Play Day encourages not just teachers and carers, but parents, relatives, siblings and communities to get involved and benefit from play, allowing multi-generational involvement. This level of interaction, with neighbours and children of different ages taking part was part of our culture before the invention of the television, whilst today it is a rare occurrence. National Play Day allows today's children to celebrate the kind of healthy play, learning and integration that our culture once enjoyed.'
Social integration is not the only benefit to getting involved with National Play Day; with highly publicised child obesity figures steadily rising and becoming a public concern, the health aspect is worth noting. Director of the Centre for Sport and Exercise Research at Staffordshire University, Professor Davey says: 'Research shows that active play is a natural instinct for young children as demonstrated by their urge to run, climb and jump in outdoor spaces. Such physical movements and play activities enhance muscle growth and support the growth of the child's heart and lungs as well as all other vital organs essential for normal physical development.'
'Of course where you live dictates what kind of event you can organise,' Says Robin Harwood of Playground Imagineering. 'If you're lucky enough to live near the countryside or a wooded area, why not see if you can incorporate that into your event? Treasure hunts or hide and seek are ideal activities where children can have a sense of adventure at the same time as experiencing independence as they ramble through the greenery. Natural surroundings can often compliment and become outdoor play equipment when children's imaginations are allowed to run freely.'
'If you live in a predominantly urban area,' says Robin Harwood. 'Some National Play Day events in the past have involved local schools allowing access to their own facilities from their communities, so as opposed to children only using the School playground equipment for the duration of a lunch break with their own class mates, they have an entire day to play with other kids of different ages from different schools, their parents and their neighbours.
Funding for National Play Day events is also available from The National Lottery via The Big Lottery Fund, which means allows lots of different and engaging possibilities. Playground instruments can be purchased with allocated funding and involve anything from a box of playground equipment which can be stored and packed away, to permanent outdoor play equipment, like wooden adventure trails.'
In support of National Play Day 2011, Boris Johnson, The Mayor of London said: 'It is so important that children and young people are encouraged and able to play, by making them, and their parents, understand that playing outside is a safe thing to do. It also provides opportunities for them to be more physically active and improve their health.
Robin Harwood is looking forward to this years' celebration. 'I sincerely hope that the organisers of National Play Day succeed in making the event even bigger than last year, as it's such a positive cause. To get involved is very simple, even if you are a single or working parent and personally organising an event is not possible. Check out what events are occurring in your community that you and your children can be involved with. Don't pass up this opportunity for the kids to experience play that is truly beneficial whilst aiding their health, development and integration with the local community.'
To find out more about National Play Day in your area or organise an event of your own, visit: http://www.playday.org.uk/default.aspx
For Playground equipment, playground markings and outdoor play equipment, visit: http://www.playgroundimagineering.co.uk/
###