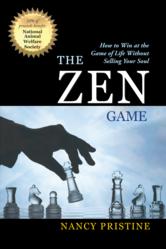 (Vocus/PRWEB) March 24, 2011
Fuchsia McInerney, CEO of Pearse Street Consulting, reviews Nancy Pristine's new book, "The Zen Game: How to Win at the Game of Life Without Selling Your Soul":
"The Zen Game: How to Win at the Game of Life Without Selling Your Soul" is a fun, illustrated, and easy to read book that provides optimal approaches for getting along with anybody and everybody in the twenty-first century. The book relies upon the tenets of the Buddha's Noble Eightfold Path and aims to show readers how to bring out the best in themselves, as well as others, and have fun doing it.
In "The Zen Game," Nancy Pristine aims to help people become their best, most successful selves without having to resort to petty competitiveness and selfish behavior.
Pristine takes the Buddha's Eightfold Path, an ancient philosophy designed to set practitioners on the path to a peaceful and selfless life, and translates it into a fun to read informative book.
"The Zen Game" is not a religious book, it's a philosophy, a "win-win attitude" that will help a person achieve happiness and inner calm in a sometimes-chaotic world. With the "Zen Game" mindset, people are more likely to respond to one another in a positive way, and they can optimize their own lives by becoming magnets for positive people and positive experiences.
Pristine, also known as the 'Happiness and Well-Being Ambassador,' is a radio talk-show host and motivational speaker. In 2009, she traveled the United States on her "You Make the Difference" speaking tour. Through her training as a certified life coach and a neuro-linguistic practitioner, she helps people transform their lives from ordinary to extraordinary.
"Whether we are successful or are struggling, it is still good to change things up every once in a while. We all get into ruts. We all do certain things the same way, every day, simply because it has become a tradition for us. Well, some traditions are good and should be followed, while others need to be stirred and shaken from time to time," says Pristine.
"The Zen Game," with its blend of ancient philosophy and contemporary verve, is an ideal guide for anyone looking to get more out of life without, as Pristine says, selling one's soul.
Highly recommended.
###