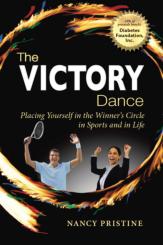 (Vocus/PRWEB) March 26, 2011
Amy McInerney, CEO of Social Focus, reviews Nancy Pristine's new book, "The Victory Dance: Placing Yourself in the Winner's Circle in Sports and in Life."
In her new book, "The Victory Dance: Placing Yourself in the Winner's Circle in Sports and in Life," Nancy Pristine introduces a dance that physically expresses the joy of winning in a way that mere words just can't. This effective and fun technique uses color, music, visualization, and positive affirmation to re-train the brain to reject negative thinking, reinforce a positive outlook, and gain winning results in sports, at work and in life.
When an athlete makes that game-winning shot at the buzzer or a business leader makes the pitch that seals the deal, the celebration is marked with a 'victory dance.' In this book, professional tennis player turned radio talk-show host, Nancy Pristine, introduces the victory dance as a tool to master old habits that have become a part of what she calls people's "cellular memory."
Pristine first demonstrates that the victory dance is an experience. The individual controls the experience and everything in it works the way it should, according to the way the individual planned it.
Pristine's cutting-edge technique, called the Victory Dance incorporates color, music, visualization, and positive affirmation in a way that guides a person to think, feel, and perform like winner. "The Victory Dance" aims to get a person out of his or her own way by getting rid of negative thinking and stopping unwanted behaviors. The Victory Dance technique is meant to have a powerful impact on the conscious as well as subconscious mind and thus, affect a person's external environmental conditions as well.
"Victory Dance" teaches lessons in navigating the ups and downs of life with individualized color cues and music. Pristine, feeling that the individual is his or her own best teacher, leads the reader to select the music for each color, as well as be the director, the producer and have the starring role in their visualization. As a person practices the Victory Dance and incorporates the color, music, visualization and affirmation into their daily life, Pristine promises that they will develop the ability to meet every situation with poise, confidence, and assurance, especially when under pressure.
Pristine hopes that the Victory Dance Technique, in addition to all of her other sage advice in regards to goal setting, breathing techniques, positive mind tools for success, life lessons that sports has to teach, and creating a workable action plan, will have the reader doing a victory dance for joy in no time! I cannot recommend it highly enough.
# # #