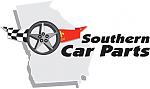 We are extremely excited to offer the Airaid lineup of high quality intake systems. The Airaid intake is easy to install without any permanent modifications to the vehicle and provides an optimum blend of power and performance for a very respectable price
Marietta, GA (Vocus/PRWEB) March 22, 2011
Southern Car Parts and AIRAID Filter Company have come together to announce their partnership for nationwide and international distribution. As of recently, Southern Car Parts will be offering the full complement of AIRAID automotive intakes and filters to the US and international markets. This particularly includes the 2008+ Dodge Challenger Intake, Chevrolet C6 Corvette Intake and the 2010+ Camaro Intake, as well as being one of the first to carry and stock the all new 2011 Ford Mustang GT 5.0 Airaid Intake. AIRAID has been a steadily selling system for Southern Car Parts and has proven to be a customer favorite in terms of quality of craftsmanship and the achieved competitive performance gains from the systems.
Southern Car Parts began selling AIRAID Intake Systems in January of 2010 for the Corvette C6 and due to the overwhelming popularity of the systems; they pursued full dealership status and decided to offer the complete lineup of Airaid intake systems. Southern Car Parts founder and CEO Jim Vose commented that, "We are extremely excited to offer the Airaid lineup of high quality intake systems. The Airaid intake is easy to install without any permanent modifications to the vehicle and provides an optimum blend of power and performance for a very respectable price. " AIRAID has been in the automotive filter business since 1997, founded when the classic business approach of seeing an opportunity to improve something already established- in this case air filters and intake systems. AIRAID was born when they began crafting intake systems for light trucks and SUV's. After tripling sales their first year, AIRAID decided to improve their approach and starting in 2002 made filters out of a premium cotton gauze element offering superior filtration. After their small beginnings, the company quickly realized that there was a lot of room to grow and expanded from just the light truck and SUV market to include just about every car in the US domestic market. This newfound expansion garnered them recognition throughout the American automotive aftermarket and eventually required an upgrade for their production facilities. They relocated to a large production facility and warehouse in Phoenix, AZ, and have been producing and designing filters and intake systems from this facility for a number of years. Each AIRAID filter is completely washable and reusable with a lifetime guarantee. Each filter body is made from premium hand poured urethane engineered to withstand the stresses of under hood temperatures, and is guaranteed not to crack, shrink or warp. Airaid's most recent creation is the 2011 Mustang GT Airaid intake which is one of the few plug and play 2011 Mustang Intakes that has proven to provide significant power gains(8-10 RWHP) and does not require any tuning.
Starting out in the Corvette Parts business and expanding over the last 6 years to include the 2010+ Camaro, Charger, Challenger, Mustang, Nissan 350/70Z, and GT-R, Southern Car Parts has been making great headway in the United States markets, and has begun acquiring customers from a number of international markets. Southern Car Parts intends to continue to serve the markets that they have been for the last 6 years, but are excited to include new customers and new markets in their expanding line up of products. They quickly established a reputation for friendly service, competitive pricing, and quick turnaround. Working closely with the needs of the Corvette community, they established a great connection with the local scene, becoming a respected name passed around from friends to businesses and internet forums.
# # #