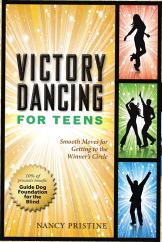 (Vocus/PRWEB) March 28, 2011
Fuchsia McInerney, CEO of Pearse Street Consulting, reviews Nancy Pristine's new book, "Victory Dancing for Teens: Smooth Moves for Getting to the Winner's Circle":
Pristine has done it again. As a follow-up to her well-received "Victory Dance: Placing Yourself in the Winner's Circle" (for adults), Pristine now reaches out to teens with her exciting new book, "Victory Dancing for Teens: Smooth Moves for Getting to the Winner's Circle." This life-changing book is packed with information which will not only help teens visualize their success using music and color, but also create a workable action plan and commit to it.
The Victory Dance is a fun and powerful technique that uses color, music, visualization, as well as positive affirmation to create new ways of feeling, thinking and performing at school, at home, and in life. "Victory Dancing" shows teenagers how to let go of limiting beliefs, jump start an action plan, and commit to their goals. Pristine introduces exercises that are meant to 'stretch' the mind, help one take charge of their life, and feel their best.
Pristine says, "It's time to take a positive stand and get rid of all the old hurtful tapes and labels from teachers, coaches and friends." The Victory Dance technique will help teens summon the feelings and emotions they need to create positive experiences as it shapes the circumstances around them. As teens begin to weave this technique into their subconscious, it will become part of their "cellular memory" and a lifetime blueprint for happiness and success.
Pristine writes in a witty, inspiring, and approachable style that teens can relate to. She encourages teens to invest some practice time every day with the Victory Dance technique to turn negative thoughts, feelings, and situations into positive ones.
With "Victory Dancing for Teens," young people will know the thrill of dancing to their own success, a dance that will last a lifetime.
"Victory Dancing for Teens" has been nominated for a 2010 Book of the Year Award in the Sports category!
###