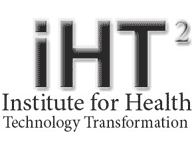 San Francisco, CA (Vocus/PRWEB) March 22, 2011
The Institute for Health Technology Transformation announced today the speakers for their panel session entitled, "Secondary Data Usage and Business Intelligence: The next evolution in health IT" at the Institute's Health IT Summit in San Francisco taking place today at the Hyatt Regency San Francisco Airport.
The panel will be moderated by Barry Chaiken, MD, MPH, Chief Medical Officer, DocsNetwork, Ltd. and former HIMSS Chair, and speaking will be Lee Marley, Associate CIO, Stanford Hospital & Clinics; Shadaab Kanwal, MBA, MISM, Director Enterprise Clinical Informatics, UCLA Health Sciences; Christy Quinlan, Acting Secretary, California Technology Agency; and Shane Hade, Chief Executive Officer, EDIMS.
The panelists will be addressing strategies for achieving the full benefits of business intelligence. Topics will include: where to begin, enterprise wide adoption, strategic, approach vs. small tactical projects, and integrating data in financial, operational and clinical systems.
The iHT2 Health IT Summit in San Francisco, taking place March 22-23 at the Hyatt Regency San Francisco Airport, is the premier executive summit focused on the strategies and tools that are re-defining customer care, collaboration, and efficiency in the health care provider markets.
Sponsors and Partners for the 2011 Health IT Summt in San Francisco include: Absolute Software, Ascendian Healthcare Consulting, Apixio, Axolotl, Catalyst Solutions, Datalink, EDIMS, ICA, Intel Health INX, MEDSEEK, MMR Global, Polywell, Proofpoint, RelayHealth, Vidyo, AMDIS, CAHL, California Association of Public Hospitals and Health Systems, CMIO, eHealth SmartBrief, FierceHealthIT, Frost & Sullivan, MobiHealthNews, IDC Health Insights, and SearchHealthIT.com.
About the Institute for Health Technology Transformation
The Institute for Health Technology Transformation is the leading organization committed to bringing together private and public sector leaders fostering the growth and meaningful use of technology across the healthcare industry. Through collaborative efforts the Institute provides programs that drive innovation, educate, and provide a critical understanding of how technology applications, solutions and devices can improve the quality, safety and efficiency of healthcare.
http://www.ihealthtran.com
###