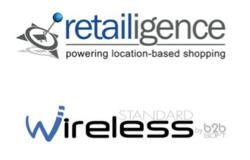 Our company has searched ways to stay in front of our customers who are riding the wave of technology. This solution will definitely help us to distance ourselves from the competition. (Tim Sanger, VP of Sales for Third Eye Communications Corp.)
Palo Alto, CA and New York, NY (PRWEB) March 23, 2011
/CTIA Wireless 2011, Orlando FL/ B2B Soft, a leader in business-to-business software solutions specializing in retail management for the wireless/cellular retail industry, is pleased to announce a new partnership with Retailigence; The Retailigence solution will be fully integrated into B2B Soft's flagship Point-of-Sale solution, Wireless Standard. This is a strategic partnership in which the Retailigence Data as a Service platform will enable B2B Soft's Wireless Standard and Retail Time platform customers to make their inventory data available on web and mobile applications, allowing shoppers to find their products when they need them - right now, in stores nearby.
The combined embedded B2B Soft-Retailigence solution brings increased value as both companies have complementary technologies which, when combined, allow B2B Soft's retail customers to be discovered by new clients by embracing the fastest growing marketing channel: The Mobile App Ecosystem. Having new customers with expressed intent to purchase discover them in highly relevant hyper-local searches will drive highly qualified foot traffic directly to retailers' doors and deliver significant ROI.
"By partnering with Retailigence we are bringing our valued Wireless Standard and Retail Time customers turnkey access to the fastest-growing marketing channel – the mobile app ecosystem – in a turnkey solution. This extends our value to our customers by driving foot traffic with strong purchase intent right to their front door and builds on our heritage of continually bringing innovation and value to our retail customers." - Gary Khabinski, CEO B2B Soft
"By partnering with B2B Soft we continue on our path of scaling rapidly by reaching out to thousands of retailers via strong channel partnerships. B2B Soft is a leader in building Enterprise Point-of-Sale solutions enabling companies to engage their customers through proven technology in store. Smartphones and location-based services are changing the very face of traditional retail and we are excited to be at the forefront of this revolution by driving high-intent foot traffic directly to retailer's doors." - Jeremy Geiger, CEO Retailigence.
The first Wireless Retailer to benefit from this partnership is Third Eye Communications Corp. The company was formed in 2008 starting with 6 MetroPCS locations in the Dallas FortWorth market and expanded to over 75 locations supporting both MetroPCS, Cricket Communications throughout markets in Atlanta, Dallas, Maryland, Chicago and Oklahoma.
About Retailigence:
Retailigence is based in Palo Alto, CA, and is funded by well-known Silicon Valley venture capital firms Quest Venture Partners, Draper Fisher Jurvetson and 500 Startups, LLC. The company's founding team has extensive background and experience in retail, technology and data systems integration. Founded in 2009, the company facilitates the path to purchase and drives foot traffic to retail stores. Retailigence aggregates retailers' location-based inventory data onto its Data as a Service platform and makes it available to the mobile and web app ecosystem through a single API. The platform supports any mobile or web application on any mobile OS through its open API, with the goal of providing platform-independent shopping data to consumers and brand management combined with analytics for local retailers. Find out more at http://www.retailigence.com
About B2B Soft:
B2B Soft is an innovative software solutions company providing vertical business solutions to improve management, Point-of-Sale and operational business processes for wireless and general retail markets and the consulting services they need to help them succeed in business. Specifically serving Wireless Retail for more than eight years and a leader in building Enterprise Point-of-Sale solutions. B2B Soft's platform enables companies to engage their customers through proven technology. More information about the company can be found at http://www.b2bsoft.com
About Wireless Standard:
B2B Soft's flagship product, Wireless Standard, is a leading SaaS Point-of-Sale solution that provides access to software and its functions for the wireless industry. With an innovative approach to application delivery, Wireless Standard is a Cloud Computing utility designed to address the needs of the world's largest enterprises in wireless retail but is scalable so small and mid-size companies can also benefit as well from an enterprise class solution. Wireless Standard capabilities include Inventory Control, POS Transaction Processing, CRM (Marketing & Customer Service), Employee Management, Real-time Web Reporting and Activation and Commission Reconciliation. Today, over 4,000 wireless retailers deploy Wireless Standard at the Point-of-Sale for better business management and customer relations. For more information, visit http://www.wirelessstandard.com
###