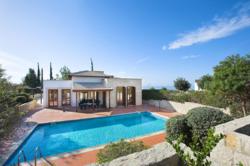 (Vocus/PRWEB) 24 March 2011
A retreat to a luxury Cyprus property such as Aphrodite Hills usually represents a desire to escape the hustle and bustle of daily life. However, the new internet service recently implemented this year by the resort shows that there is a demand to stay connected even while relaxing at an Aphrodite Hills property.
Aphrodite Hills now offers new internet solutions for guests renting their holiday residences. For only 60 Euros per week, they can acquire a USB dongle for their laptop that will provide them with mobile broadband internet throughout the resort. For 85 Euros per week, they can also rent a compact Netbook with mobile broadband. These new internet options mean that guests to the resort and Aphrodite Hills property owners can have internet in their property anytime, for a relatively affordable price.
This new service reflects the current trend of more people using the internet while on holiday. A recent survey of New Zealanders found that 1 in 4 used the internet at least once a day while on their vacation. Another online survey of 1200 Australians reported that 97% of responders planned to use the internet on their next holiday. With internet service at hotels and resorts becoming an important feature for many guests, it seems like being online is a priority for the modern holiday goer.
Why do so many people want to spend their holidays on the internet? One of the primary reasons is to keep in touch with family and friends. The internet allows travellers to e-mail, chat, and even talk face to face via webcam with their faraway loved ones while at their luxury Cyrus property. Some people also update their social media websites, such as Twitter and Facebook, to let their friends and contacts know that they are on holiday at their Luxury Cyprus property.
Another reason for wanting to access the internet from an Aphrodite Hills property is to stay in touch with current events. Many people say that they still like to read the news while on holiday and stay updated on important happenings around the world.
Internet access can also be incredibly useful on a holiday to Aphrodite Hills property. With instant access to online travel forums, tourism websites, and other informative sites, travellers can plan out the activities of their holiday in Cyprus with ease. For example, if a guest is in the mood for a romantic meal they can simply do a search for gourmet restaurants in the area and immediately be able to view the menu, check out prices, make a reservation, and even take a look at a map of how to get there, all from the comfort of their Aphrodite Hills property. As well as restaurants, this can work for museums, tours, and other attractions. There are many informative travel guides that can be easily accessed online.
Of course, the danger is that urgent work emails will spoil the peace and tranquillity of the holiday. True, some people do get caught up in the stress of work because they let it follow them on their holiday. Perhaps these are the sort of people who would choose not to use the internet on a holiday so that they can completely "switch off" and enjoy some privacy. However, there are so many benefits to staying connected while on holiday that it seems this current trend will only continue.
The internet helps us in so many ways to have an easier and more well-informed life at home, why shouldn't it do the same for us while we are on holiday?
Author Bio
Searching for the ultimate in Luxury Cyprus Property, have a look at the amazing views and modern accommodations at Aphrodite Hills.
# # #