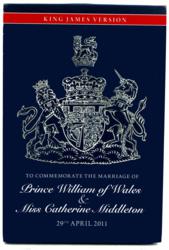 In the tradition of the family Bible, it will become a cherished piece handed down from generation to generation.
Northampton, England (Vocus/PRWEB) March 23, 2011
On April 29, 2011, HRH Prince William will wed Catherine Middleton. Three days later, England will celebrate the official 400th anniversary of the King James Version of The Holy Bible. A limited edition Bible with a specially-designed cover marking the Royal Wedding has been created to honor both milestones, says Royal Commemoratives retailer and expert Stephen Church.
Church, fifth-generation managing director of Church's China, the longest-operating retailer of Royal memorabilia in the U.K., says, "This lovely collector's item is a wonderful way to memorialize these two historic events. This particular piece of memorabilia is highly unique due to the fact that both events coincide so closely with one another."
The 6-inch by 4-inch, 1,590 page Bible, limited to a production run of 2,000 copies, bears the Royal Coat of Arms of Prince William of Wales in silver on a Royal blue cover. The Bible has a silver ribbon marker, and its pages are gilded in silver. Inside, the words of Christ appear in red-letter type along with with full-color maps and a presentation page where recipients can personalize their gift. The Bible is available for $39.67 via http://www.theukgiftcompany.com, the Internet sales division of Church's China.
Church notes, "In the tradition of the family Bible, it will become a cherished piece handed down from generation to generation."
Produced during the lifetime of William Shakespeare, the King James Version of the Bible was commissioned by King James VI of Scotland and I of England and took seven years for translators to complete. It is one of the most frequently used Bibles in the English-speaking world, particularly in the United States. In 2009, Barack Obama took the oath of office on the same King James Bible used by Abraham Lincoln in 1861.
Prince William and Kate Middleton will marry at Westminster Abbey at 11 a.m. "Their union is the highest-profile Royal event the world has experienced since the 1981 wedding of Prince Charles and Lady Diana," says Church.
An estimated 1,900 wedding invitations were issued for the wedding service, according to Church. Six hundred of those guests have been invited to a luncheon hosted by the Queen following the service while a select group of 300 have been invited to attend the reception at Buckingham Palace.
Established in 1858, Church's China sells a wide range of china and other collectibles. Specializing in royal commemorative memorabilia, the company has locations in Northampton and Market Harborough, England as well as an online division, The U.K. Gift Company. For more information, visit http://www.theukgiftcompany.com.
###