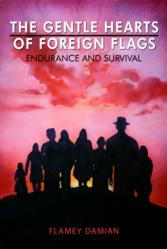 Malibu, CA (Vocus/PRWEB) March 24, 2011
The Gentle Hearts of Foreign Flags: Endurance and Survival, a new book by Flamey Damian, has been released by RoseDog Books.
During World War II, in a small town in German-occupied northern Italy, near the Croatian border, the family of a shoemaker named Giovanni Pettirosso tries to keep daily life as normal as possible. The mountainous coastal area where they live is remote from most of the fighting, but they are occasionally bombed by both the Allies and the Germans around the train tracks and the main roads and are constantly on the alert for the air-raid warnings. When the sirens wail, everyone heads for bunkers hidden in the mountains.
The young eligible men have all been conscripted into military service, either by the defeated Italian army or by the Partisans, a communist-led organization of nationalists' intent on an independent Yugoslavia.
Flamey Damian emigrated from Italy. Eager to see the new world and to learn its language, he attended Evander Childs High School, Fordham University, and New York University, and finally graduated from New York State Teachers College. He served eight years in Manhattan 71st National Guard Infantry, then traveled with his wife and two children to California. He never lost his passion for the arts.
The Gentle Hearts of Foreign Flags: Endurance and Survival is a 338-page paperback with a retail price of $32.00. The ISBN is 978-1-4349-8214-8. RoseDog Books of Pittsburgh, Pennsylvania published it. For more information or to request a review copy, please visit our virtual pressroom at http://www.rosedog.com/pressroom or our online bookstore at http://www.rosedogbookstore.com.
# # #