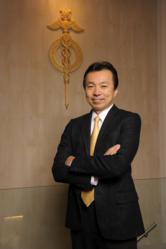 Today, people hunger for ways to grow spiritually, become better people and live healthier, happier, more richly rewarding lives
Atlanta, GA (Vocus/PRWEB) March 23, 2011
Every weekend, rain or shine, as long as the planes are flying, Happy Science USA's Chief Ambassador and Head Minister Yuki Oikawa travels to Atlanta from his home in New York City to hold guided meditations, speak before groups, and offer Happy Science's road map to achieving happiness, peace of mind and prosperity in an increasing complex world. The movement was founded in 1986 by Japan's revered "modern-day Buddha," Master Ryuho Okawa, and now has 12 million followers in 75 countries. Master Okawa's latest book is The Next Great Awakening: A Spiritual Renaissance (March, 2011, New Atlantis Books).
Happy Science is open to people of all religious and spiritual backgrounds and offers guided meditations, discussion groups, seminars, workshops and fellowship for those seeking answers to serious life challenges, such as drug or alcoholic addiction, financial difficulties, divorce, or a serious illness.
"Today, people hunger for ways to grow spiritually, become better people and live healthier, happier, more richly rewarding lives," says Mr. Oikawa. "Some are looking for alternatives to church, but most of them are church members, and two are even ordained ministers. This is not about giving up your religion but about enhancing your life."
The Happy Science mission (described in detail on its websites http://www.happyscience-atlanta.org and http://www.happyscience-usa.org is to help end wars by spreading unconditional love between people everywhere (and between us and interplanetary visitors that may have already come here from outer space) and create a true, and long overdue, New Utopia on earth.
Interest in the movement has intensified following the devastation in Japan caused by the massive earthquake, tsunami and still- looming threat of a spreading nuclear meltdown.
Happy Science's Atlanta members are assisting with a Happy Science global outreach program called Project H.O.P.E ("Helping Other People Endlessly"). This initiative is designed to provide assistance to victims. Through this program, truckloads of life-sustaining necessities have been sent to four major cities in the affected region in Northern Japan. At aid stations, Happy Science volunteer groups from the U.S. and other countries are assisting in the rescue effort and helping bring food, water, medical supplies and health care to those affected. Happy Science volunteers and staff have also initiated a global prayer circle.
While many Atlanta members are of Japanese and Asian American descent, the majority are European and African Americans. One active Asian-American follower is Yuki Takahara, 28, who helps run her family-owned restaurants in Atlanta, Myrtle Beach, SC, Charlotte, NC, and Missouri. "Happy Science has impacted my life in many positive ways, and I truly believe that as the movement grows it can and will heal the world," Ms. Takahara asserts.
Yuki introduced Happy Science to her friend Noke Nikhomvan, 38, a Healthcare IT consultant. Ms. Nikhomvan says that the guided meditations led by Yuki Oikawa each week help people cope with the omnipresent stress in their lives and get clarity on what is happening in the world at large. She also says that the meditations allow people to open their minds and hearts to others, and to connect with Guardian Angel spirits that live on another plane of existence and are always available to help those who are open to receiving what the five senses cannot always perceive.
Linda Wilson, another Atlanta resident and Happy Science follower, reminds us of what many wise philosophers have said: "We are not humans on a spiritual journey but rather spirits on a human journey."
Each week the numbers of attendees at meditations, seminars and discussion groups continues to increase, and Happy Science recently found a permanent convenient location in downtown Atlanta with 9,000 square feet of space and room for more than 200 seats. At the new Center's May 1, 2011 Grand Opening members and guests will join together for a ribbon cutting and participate in fellowship activities. This celebration is open to the general public and anyone interested is invited to join the joyful event. For details visit http://www.happyscience-atlanta.org.
###