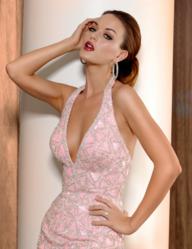 New York, NY (Vocus/PRWEB) March 23, 2011
The long-time designer of elegant women's evening wear and glamorous prom dresses has distinguished itself as a top name with a strong and loyal following. Always coming up with new and exhilarating ways to get their fans wound up, Jovani Fashions has done it once again with its "Win at Least $15,000 Modeling Contract with Jovani" contest. Within just one hour of posting photos of the top 100 semi-finalists onto their Facebook page, the fashion company saw its fan base increase by over 3,000 fanatical people eager to get their vote in.
After weeks of receiving thousands upon thousands of applications from girls all over the country, Jovani narrowed down their search for the perfect model yesterday. All 100 semi-finalists will receive an official tote bag and exclusive Jovani watch. But that's not all—the 10 girls with most Facebook votes/"likes" by June 7th, the contest end date, will receive a free pair of Jovani shoes and prom dress of their choice. How's that for excitement?
Now, the hardest task for these 16 to 19 year old semi-finalists will be to round up all their friends and family members to get them to "vote" for their photo on Facebook. Never before has Jovani held a contest with so many gorgeous girls—and it's already looking to be highly competitive. But not to worry, a great feature of this contest is that fans have until June 7 to get all their votes in.
Even non-friends and non-family members have been signing onto Facebook to get in on all of the action. Ultimately, these voters will share in the process of choosing the winner of the Jovani modeling contract. The fashion house has decided to put power into the hands of their fan base in helping to eliminate all but 10 girls, who will then move on to the next round and be in the running to win the grand prize.
The winning girl will receive a long-standing contract with Jovani to model for upcoming special occasion catalogues and national market shows that will be worth at least $15,000. Not to mention, she will be gifted fabulous prizes and will be able to partake in future modeling opportunities for Jovani. All fashion followers can visit http://www.JOVANI.com for more contest details and instructions on how to vote.
Company
Jovani is a family-owned fashion house that designs and manufactures elegant women's evening attire. From prom dresses, bridal dresses, cocktail styles and couture gowns, Jovani has a collection for every formal need. As an innovator in women's evening wear, Jovani's designer dresses are both fashion-forward and timeless. The eye-catching styles are unique and versatile, and are a favorite among Hollywood's young elite. On the red carpet and inside the pages of high-fashion magazines, Jovani dresses make a glamorous statement wherever they go.
Contact: Lianne Gourji
Phone: (212) 279-0222 Ext. 111
# # #