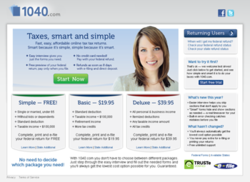 (PRWEB) March 23, 2011
With the IRS tax deadline fast approaching, many taxpayers may find they need extra time to finish their 2010 tax returns. They can get that extra time by e-filing a fast, affordable online federal extension with 1040.com. The extension is for six months, until October 17, allowing taxpayers plenty of time to get their remaining tax documents in order. While signed in, users can easily switch to working on their federal and state tax returns, and can finish and e-file whenever they're ready.
More reasons to get an extension at 1040.com:

E-filing an extension is the quickest and best way to get the peace of mind of an extra six months to finish a federal return.
With 1040.com, filing an extension is three steps, taking only a few minutes.
1040.com helps estimate whether a tax payment should be sent with the extension, to avoid late payment penalties and interest. Tax payments can be made by credit card, direct debit, or check.
After e-filing with 1040.com, users receive e-mail confirmation when the extension is accepted.
Taxpayers can e-file an extension as late as midnight on April 18, at https://fileonline.1040.com.