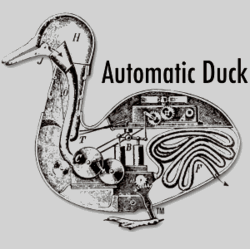 "Automatic Duck has a well-established tradition of meeting the needs of post-production facilities with its ability to easily move projects between platforms."
Oak Park, CA (Vocus/PRWEB) March 29, 2011
The Digital Production BuZZ announced today that Automatic Duck, developer of timeline integration software for digital media artists, has signed an agreement to become a weekly sponsor of the international online radio show and podcast, the Digital Production BuZZ effective immediately. The Digital Production BuZZ also announced today that Automatic Duck has agreed to sponsor the show at NAB 2011, to be held in Las Vegas, April 9-14, 2011. The Digital Production BuZZ is a weekly podcast heard in over 130 countries around the world covering the technology of video production, post-production, and distribution.
"Automatic Duck has a well-established tradition of meeting the needs of post-production facilities with its ability to easily move projects between platforms," said Larry Jordan, host and executive producer for the Digital Production Buzz. "Automatic Duck gave the world the exciting Media Copy 3.0 and amazing Pro Import AE 5.0 for the Mac at NAB Show 2010, and we look forward to learning what new, transformative product they'll offer this year at NAB. We're delighted to be sharing their message with The BuZZ audience."
"As Automatic Duck celebrates its 10th Anniversary and 11th NAB, it's highly appropriate that we support our friends and partners who've contributed significantly to our success," said Wes Plate, president of Automatic Duck. "Having the support of Larry Jordan and the very influential 'Digital Production BuZZ' through the years has played a key role for us, and we're honored to sponsor the show this year."
The Digital Production BuZZ at NAB 2011
This year at NAB 2011, the BuZZ will create seven one-hour Special Reports, bringing in-depth news and interviews with industry leaders covering the latest technology on display at the NAB Show 2011. The Buzz hosted by Larry Jordan, will post a new show every evening (Las Vegas time), starting Monday, April 11th.
About Automatic Duck
Automatic Duck is the pioneer of Timeline Integration Engine technology and leads the content creation marketplace with powerful solutions for seamless, comprehensive timeline translation capabilities between Avid, Adobe After Effects, Discreet Smoke, Final Cut Pro, Motion and Quantel via XML, OMF and AAF. For more information on Automatic Duck's unique Timeline Integration Engine technology, please visit http://www.automaticduck.com.
Visit Automatic Duck at NAB Show 2011 at Booth SL3327J in the Plug-in Pavilion next to Adobe.
About NAB Show 2011
The NAB Show will take place April 9-14, 2011 in Las Vegas (exhibits open April 11). It is the world's largest electronic media show covering filmed entertainment and the development, management and delivery of content across all mediums. The NAB Show BuZZ, powered by the Digital Production BuZZ is an official podcast of the NAB Show 2011.
About NAB
The National Association of Broadcasters is the premiere advocacy association for America's broadcasters. NAB advances radio and television interests in legislative, regulatory and public affairs. Through advocacy, education and innovation, NAB enables broadcasters to best serve their communities, strengthen their businesses and seize new opportunities in the digital age.
About the Digital Production BuZZ
Digital Production BuZZ is one of the longest-running podcasts about technology bringing listeners all the news they need now and in their digital future. It remains a leader in programming related to digital video production, post-production and distribution, keeping its listeners in touch with the trends and technologies, people and practices essential to keep them up-to-date and entertained.
New episodes of the weekly Digital Production BuZZ air live every Thursday from 6:00 to 7:00 pm PST. Listen live at the show's website or download the program later on iTunes. The BuZZ also offers a Newsletter that gives listeners a behind the scenes view of each week's show, available at http://www.digitalproductionbuzz.com.
Executive producer and host of the Digital Production BuZZ is Larry Jordan (internationally-renowned digital media expert, Apple-certified trainer, author, and member of the Directors Guild of America and Producers Guild of America). Michael Horton co-hosts (actor, film editor, and founder of the Los Angeles Final Cut Pro User Group and organizer of the world-renowned SuperMeets). Cirina Catania produces (writer/director/journalist and member of the Producers Guild of America and the Writers Guild of America.)
Digital Production BuZZ can be found at booth SL12311 or online at http://www.nabshowbuzz.com. For further information on our shows write to buzz@digitalproductionbuzz.com or to schedule an interview on the BuZZ contact Cirina Catania at buzz(at)catania(dot)us.
About Larry Jordan & Associates, Inc.
Larry Jordan & Associates, Inc. provides high-quality, engaging training and information covering video production and post-production for practicing professionals and students through a variety of media worldwide. The company was founded by Larry Jordan, an internationally-renowned digital media analyst, producer, director, consultant and Apple-Certified trainer. Jordan's FREE Monthly Final Cut Studio Newsletter is read by Final Cut users around the world available at http://www.larryjordan.biz/nxlttrs.html.
# # #