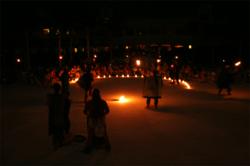 We are committed to our responsibility to ensure a sustainable future for everyone.
Cancun, Mexico (Vocus/PRWEB) March 23, 2011
Acknowledging the need to act against the challenges of climate change, the Cancun hotel consortium Sunset World will take part in the Earth Hour initiative for a second year in a row on Saturday, March 26th, 2011.
Cities around the world will turn off their lights for one hour on Saturday as a tangible commitment to caring for the environment.
Sunset World announced that their hotels Sunset Royal, Sunset Lagoon, Ocean Spa, Sunset Fishermen, and their green resort Hacienda Tres Ríos will participate in Earth Hour by turning off their lights from 8:30 p.m. to 9:30 p.m. local time and by presenting several other activities to create consciousness about the preservation and conservation of planet Earth.
"Sunset World will join the Earth Hour initiative by turning off the lights to illuminate our future and create consciousness in each of our guests and staff. We are committed to our responsibility to ensure a sustainable future for everyone," said the hotel group with over a thousand rooms in the Mexican Caribbean.
The group's Riviera Maya eco-luxury resort, Hacienda Tres Ríos, will explain the global movement to its staff members and guests. The resort will go dark for one hour and will light up with torches and candles for the special Mayan fire show.
The Sunset Fishermen will also turn off its lights and prior to the event, guests will be invited to form a world map on the beach. The Sunset Royal will show a video to create consciousness while a little angel turns off the lights. This will lead to a candlelight Mariachi concert. The music will focus on nature. The Sunset Lagoon and Ocean Spa hotel will present a Mayan ritual, a Tai Chi and meditation session while the lights are out.
As part of their commitment to participate in the 5th annual Earth Hour, Sunset World will document the activities taking place in each resort. Last year, the Earth Hour initiative drew more than 100 companies and filled 22,000 hotel rooms in the Mexican Caribbean.
Sunset World has become one of the most solid tourism corporations in the Mexican Caribbean. Due to its successful marketing, vertical and horizontal operation systems and direct sales, these strategies have allowed the hotelier company to grow and generate more than 5,000 jobs in Mexico, U.S., India, Philippines and England. Other important companies that fall under the Sunset World Corporation include the Marina Club Lagoon, the travel agency Sunrise Travel, car rental agency Royal Rent a Car, and its own progressive marketing firm.
# # #