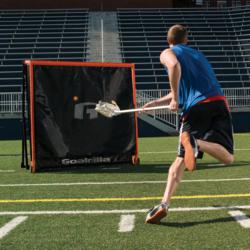 Evansville, IN (Vocus/PRWEB) March 23, 2011
There's a tough new multi-sport trainer from the company that's known for building the toughest athletic equipment on the planet – Goalrilla. The new Goalrilla G Trainer is designed to be a high-performance multiple sports trainer for athletes with varying skill levels.
Because it's Goalrilla, the G Trainer "lets athletes push themselves to their physical limits without worrying about the limits of their equipment," says Evan Lederman, Category Manager at Escalade Sports, the parent company of Goalrilla. The final prototype followed 10 months of development and testing, and withstood rigorous manufacturing tests including 10,000 pitches from a baseball pitching machine set at 96 miles per hour. "Most unique to this new product is that no other sports trainer can compete in so many ways," says Lederman. "From soccer drills and lacrosse drills to baseball, softball, basketball, football, volleyball, even golf, the G Trainer is adaptable to the training needs of the athlete."
The key to the all-steel G Trainer is the two distinct training sides of the unit. It's the only sports net of its kind to offer a rugged pitch back rebound net on one side, and a versatile dampening net and practice goal on the other. The stable, easy-to-move and easy-to-set-up system includes locking wheels and safety straps. This means that an athlete can easily train without a partner when necessary.
FIVE-POSITION PITCH BACK REBOUND Side:
The five-position rebound net is unique among sports trainer equipment. This versatile net set up allows one piece of equipment to adapt to your program's many demands. The rugged polyethylene net adjusts to different pitch-back angles, making the rebound side adaptable to sports drills for soccer, lacrosse, baseball, softball, basketball and volleyball.
Soccer: passing and trapping, adjustable for high or low returns, and throw ins.
Lacrosse: passing drills, throwing and catching.
Baseball/Softball: fielding ground balls, line drives, and fly balls.
Basketball: basketball drills with passing, catching and shooting from anywhere on the court, and as a ball return for shooting and free-throw drills (greatly increase the reps in a given period of time).
Volleyball: passing, digging, serving, setting, and peppering.
DAMPENING/GOAL Side:
Durable polypropylene nets adjust from a dampening net to a 72" x 72" practice goal in seconds. The durable dampening net dampens the impact of balls to facilitate drills for soccer, lacrosse, baseball, softball, football and golf.
Soccer: dampening practice shots, or use as a practice goal.
Lacrosse: dampening practice shots, or use as a regulation-size practice goal.
Baseball/Softball: dampening for pitching, throwing, hitting tee, and soft toss.
Football: dampening for pass, punt or kick.
Golf: withstands the impact of a real golf balls for practice drives or irons.
"We knew that one piece of equipment designed to withstand punishment throughout different sports seasons and changing weather would have to 'be more.' It had to be tougher," says Lederman. "That's why we built the G Trainer like we build all Goalrillas," he continues. Galvanized, powder-coated steel, stainless steel components and welded corners are the standard components of the Goalrilla G Trainer. In addition, all hardware is coated with black zinc to ensure rust protection. "We like to say that with Goalrilla 'it takes more be here.' That goes for the athlete, and for any equipment that says Goalrilla on it," says Lederman.
Escalade Sports manufactures and distributes a full-line of Sporting Goods products including Goalrilla basketball systems and sports training equipment. For more information contact Larry Gajderowicz, Marketing Manager; Escalade Sports 817 Maxwell Ave. Evansville, IN 47711, or call at 812-467-1200.
###