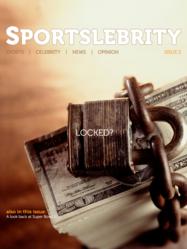 If we reach that goal we will give away a free iPad 2 to five people.
Leesburg, VA (PRWEB) March 23, 2011
Sportslebrity, Inc. recently released the second issue of Sportslebrity Magazine to the Apple iPad App Store. As a small independent publisher it can be difficult to get noticed, especially in the sea of apps now available for iPad on the App Store. "It's really hard to get noticed on the App Store, so we hatched a plan," said James Griggs, the magazine's Editor in Chief, "we have set a goal to sell 10,000 copies of Sportslebrity Issue 2 by March 31, 2011. If we reach that goal we will give away a free iPad 2 to five people."
Sportslebrity decided to use social networks to spread the word about the giveaway and to give a chance for people in their social space to be rewarded.
How does the giveaway work?
In order to spread the word about the magazine. Sportslebrity encouraged people to inform everyone they know, who owns an iPad, to download Sportslebrity and buy Issue 2. Once the goal is reached Sportslebrity will randomly pick five winners from people who either "follow" them on Twitter or "like" them on Facebook. If you don't "follow" or "like" Sportslebrity, you will not be eligible to win.
"Even though there is only a short period of time left we are hoping it will be a success," said James, "it could be a win for us, and a win for some of our fans. We hope this works because we would love to do future promotions like this."
A widget on the Sportslebrity website is tracking the progress of their goal.
About Sportslebrity
Sportslebrity, Inc. is a multi-media news company that uses multiple channels such as their website, Facebook, Twitter, E.G.O. and Sportslebrity Magazine to cover sports and the interesting people around sports.
Sportslebrity Magazine is an interactive journal made exclusively for iPad. With engaging stories, and fantastic photos the magazine's mission is to deliver a fun, informative and immersive experience for sports fans around the globe.
More information about Sportslebrity and the giveaway can be found online at http://www.sportslebrity.com.
# # #