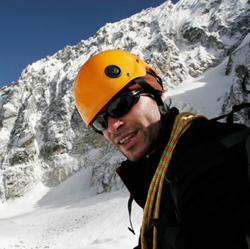 There's a big difference between prescription ski glasses and prescription mountaineering glasses as the design of the lens and frames varies according to the terrain and activity you'll be facing
Bolton, Lancashire (Vocus/PRWEB) March 25, 2011
Recent reports published reveal that adult obesity is on the rise across the UK. 'Obesity rates in Britain are soaring with nearly a quarter of adults classed as clinically obese,' says The Daily Mail's Claire Bates. 'Despite Government warnings that we are turning into a nation of couch potatoes and risking obesity-related illnesses such as heart disease and cancer, our waistlines keep growing.'
However, Andy Taylor, of Rockspex, retailers of sports prescription glasses, remains positive. 'In the past few years, government campaigns do appear to be working as we're frequently contacted by people new to sports who are actively changing their lives and improving their health.
That said, we all know of someone who scoffs at the thought of anything that requires some kid of physical effort and exertion, but I often find that the key there is to find something that interests them- a sport that they want to do, instead of something that they should do. 'Should' is a task which can be dreaded, put off or avoided, but actually wanting to do something specific means that the person often commits to it a lot more than they had originally bargained for.'
'Unlike team sports, extreme sports are individual and self-directed. When you're successful, the rewards are all yours. You can take pride that it was only you that accomplished the goal.' Says Martin Longreen of Hertao, the self-defense website. 'Think of the joy you get when you make it down to the bottom of a hard ski run in record time. Or how capable and empowered you feel when you climb a 100-foot rock face.'
'Whatever your reason for seeking extreme sports, there are plenty to choose from, with varying levels of requirements (equipment, stamina, preparation, finances), so you shouldn't have too much trouble finding the one that is right for you as long as you're willing to go out on a limb and try something new,' advises Extreme Sports Trader writer Carolyn Barilla. 'There are different extreme sports being conceived every day,' says Andy Taylor of Rockspex, who provide not just standard glasses but Wiley X prescription sunglasses too.
'There truly is something for everyone out there. It's my job to ensure that if your vision is not 100%, that you have the best eyewear for the activity you wish to do.There's a big difference between prescription ski glasses and prescription mountaineering glasses as the design of the lens and frames varies according to the terrain and activity you'll be facing. For example, the lenses in prescription golf glasses are designed to cope with the sun and seeing the white ball against the sky during long shots. They're a lot different to prescription cycling glasses, where the frames are designed to hold snugly onto your face whilst the lenses are tinted to help you avoid potential hazards on rough terrain. Motorcycle prescription glasses are too a different design as they have to cope with being worn comfortably under a helmet at high speeds. There's lots of active sports out there choose from and a wealth of support available from me if you need it.'
In 2007, Germany saw the birth of Sporthock, described by some as 'extreme sitting down', using what looks like a large Diablo like a skateboard. Similar stunts are performed on the Sporthocker, such as kickflips, rail slides and jumps, before the rider sits down to signify the end of their routine. The creators of the Sporthocker, Michael and Stephen Landschutz, claim that the attraction is not only the lightweight durability which allows for the execution of some very imaginative stunts, but the rather more practical reason of being a convenient place to sit down.
Volcano Boarding has attracted more than 10,000 participants as thrill-hungry tourists travel to Nicaragua's Cerro Negro Mountain to enjoy the hike to the top of the active volcano and take in the views before descending down the side at speeds of up to 50 mph on a specially constructed plywood board. 'We started offering this trip in 2005 and it has become so popular,' said Philip Southan, owner of Green Pathways Tours. 'This is a unique tour as nowhere else in the world can you board down an active volcano.'
If extreme sitting on a Sporthocker in Germany or Volcano Boarding in Nicaragua are a little too far from home for comfort, Andy Taylor suggests taking advantage of the extreme sports available in the UK. 'I suggest that if you want take up an extreme sport, but feel more comfortable dipping your toe in the water first, I strongly recommend going to one of the festivals in Newquay this summer. There you should be able to experience the lifestyle of extreme sports and see the experts showing off their skills in diverse genres like surfing, skateboarding, and BMX stunts, and discover which discipline best suits you.'
Over the last few decades, Cornwall's Newquay beach has become the most famed destination in the UK for extreme sports. August 10th sees the return of The Relentless Boardmasters Festival, featuring a plethora of live bands, surf competitions, skateboard and BMX events over five days, with tickets on sale from March 7th 2011. 'The English Surfing Federation's Surf School is going to be organising many training camps and other events that will undoubtedly draw a great number of spectators and participants alike,' says Victoria Crowdell of Sports Equip. 'To start the summer out, there is the Russ Winter Coaching Weekend Event- a perfect opportunity for people with some skills that want to get better that will take place in Newquay between June 25th and 26th, and then again between July 9th and 10th.'
'There is a wealth of experiences out there to be had,' says Andy Taylor, who got the idea for Rockspex after searching tirelessly for climbing prescription glasses for himself. 'The key is to finding an activity that suits you. Professionally, I can help you get the right glasses for your chosen activity if your eyesight requires spectacles. I myself was in the same boat, but now I have the right tools for the job, I regularly enjoy rock climbing, mountain biking and more. If you're considering taking up any sport, extreme or otherwise, then let me tell you- come on in! The waters' lovely,'
For advice on the best extreme sports prescription glasses, Bolle prescription sunglasses and more, contact Andy Taylor via http://www.sportsprescriptionglasses.co.uk
###