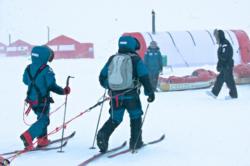 You know it's brutal when you are glad it's only minus 30 Celsius
(Vocus/PRWEB) 23 March 2011
The Catlin Arctic Survey can confirm that its team of four explorers completed the first phase of their expedition late on Tuesday when they arrived at the Catlin Ice Base on the floating sea ice of the Arctic Ocean. The team has faced arduous conditions on their 77 mile route as fierce cold, strong winds and snowstorms battered the region. Their trek across the Prince Gustaf Adolf Sea took 10 days in temperatures dipping as low as -42C.
Despite the harsh winter conditions, they have achieved their objective of capturing data for scientists working on changes to the Arctic Ocean and their impacts.
Tyler Fish (USA), Adrian McCallum (Australia), Ann Daniels and Phil Coates (both UK) were dropped onto the ice off the eastern coast of Borden Island, in the Canadian High Arctic, reaching the Catlin Arctic Survey's seasonal Ice Base off the western coast of Ellef Ringnes Island.
Speaking from the Ice Base co-team leader Ann Daniels said the short but challenging first phase of the expedition had given them an opportunity to bring back data from an area of special interest to scientists because water flows through it from the Arctic Ocean to the North Atlantic.
"Some of the ice we crossed was really thick multi-year ice that was just too thick to drill through. Our drill goes to four and a half metres and it wasn't breaking through. In other areas we were able to drop our measuring devices down to a depth of 200 metres below the floating ice."
"It was pretty tough going. The hardest thing for us was surviving the worst of the weather. You know it's brutal when you are glad it's only minus 30 Celsius. Even then, as it 'warmed' we then experienced snowstorms and high winds."
The team is resting for the next few days before redeploying to begin a much longer 300 nautical mile trek from the region of the North Geographic Pole towards Greenland.
The third Catlin Arctic Survey focuses on the vital role the Arctic Ocean plays in driving powerful ocean currents. The explorers are gathering data for scientists concerned that greater volumes of melted sea ice are 'freshening'' the ocean and may be unbalancing the processes which sustain these currents. Any change to the conditions influencing these ocean currents could have impacts far away from the Arctic as they carry heat and nutrients around the world's oceans. One consequence could be altered weather patterns of northern Europe, North America and even parts of Asia.
The data captured by the team during both phases of its Arctic expedition will be sent to Dr. Simon Boxall of the National Oceanography Centre, Southampton for more in depth analysis.
###