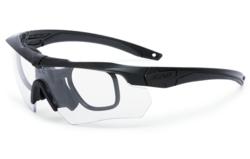 (Vocus/PRWEB) March 24, 2011
Eye Safety Systems, Inc., located in Ketchum, Idaho was awarded a $6 million contract from the Department of Defense Logistics Agency Supply Center in Philadelphia. The award includes an initial one-year contract with four one year option periods which would increase the award amount to $13.5 million.
The contract is for optical prescription lens carrier kits and is the largest volume direct contract the company has held to date. With 30 full-time employees, ESS is the only approved ballistic eyewear for the U.S Marine Corps and one of six companies whose products are authorized for combat use within the U.S. Army. They are also the largest supplier of military ballistic eyewear in the world.
"The optical prescription lens carrier kits are available to all branches of our military worldwide, according to Mike Vigueria, Government Contracts Director. "We are extremely grateful for our troops and proud to support them day in and day out."
ESS also designs, manufactures, and sells eye protection systems for law enforcement, fire/rescue, and motorsport professionals in the United States and in over 100 countries. It offers ballistic lenses and eye-shields, structural goggles, ballistic sunglasses, and accessories.
ESS markets its products through retailers and online. More details are at http://www.esseyepro.com. The company was founded in 1998 and is a subsidiary of Oakley, Inc., a California-based company that holds over 600 patents for eyewear, materials and performance gear.
ESS is a client of the Idaho Department of Commerce Procurement Technical Assistance Center (PTAC). For more information, go to http://www.ptac.idaho.gov.
###