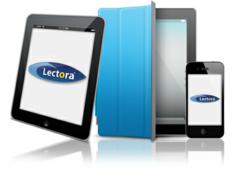 The Lectora User Conference is the perfect forum to address the growing needs for mobile learning.
Cincinnati, OH (Vocus/PRWEB) March 24, 2011
Tim Ferguson, Chief Information Officer at Northern Kentucky University, serves as one of the Keynote Speakers at the 2011 Lectora User Conference. Ferguson leads the Technology teams at NKU and mentors students in innovative and upcoming technologies such as mobile learning. Prior to joining NKU, Tim served as Senior Vice President at Computer Associates.
Ferguson will open the second day of the Lectora User Conference on Thursday, May 12 with a riveting presentation on emerging mobile technologies that continue to impact our society, businesses, and education. As 2011 was coined the "year of the tablet", this is the time that we must implement and use this new technology. Students no longer work in computer labs and employees are no longer constrained to their desktops, making it crucial for us to adapt to this new age.
Lectora User Conference attendees will learn about eLearning software and mobile learning trends such as tablets and the latest Smartphones. Ferguson will also share the "Learn Anywhere, Anytime, Anyway" mobile learning principle that NKU maintains. With a deep understanding of today's mobile learning landscape, Ferguson's presentation will enlighten attendees on how to enhance their learning initiatives with mobile technologies.
In conjunction with the Lectora User Conference theme, "The Future Comes Alive," Ferguson's keynote speech will address the growing demands of the mobile workforce and the role that mobile technologies play in the future of learning. "It's imperative for both corporations and academic institutions to incorporate the use of mobile devices and tablets into their future development plans," said Ferguson. "The Lectora User Conference is the perfect forum to address these growing needs for mobile learning."
Lectora eLearning authoring software continues to be one of the only major authoring platforms that publishes eLearning content to mobile devices and tablets. "Trivantis acknowledges the exponential growth in the area of mobile learning and continues to provide its customers with the ability to develop and distribute just-in-time learning on the go," said Peter Bray, Chief Marketing Officer at Trivantis.
In addition to presenting, Ferguson and his team at NKU will create a Lectora User Conference mobile app for conference attendees. The app includes all the information attendees need to know, including directions to the event, entertainment options, the full conference schedule, and more. To register or find out more about the 2011 Lectora User Conference, which takes place on May 10-12 in Cincinnati, Ohio, please visit http://www.trivantis.com/lectora-user-conference-2011.
About Trivantis Corporation
Cincinnati, Ohio-based Trivantis Corporation provides world-class publishing technologies and services that enable the creation, distribution, and management of multimedia eLearning content. Designed to help overcome the technical barriers traditionally associated with electronic publishing, Trivantis solutions provide educators, the business sector, and government agencies the ability to create and publish high-quality content with multi-platform publishing capabilities. Trivantis Corporation produces Lectora, the world's leading eLearning software used by most Global 2000 companies in more than 70 countries and all five branches of the United States Military. Trivantis also creates CourseMill, a world‐class learning management system for deploying, hosting, and tracking eLearning content. Website: http://www.Trivantis.com. Trivantis, Lectora and CourseMill are trademarks of Trivantis Corporation.
# # #