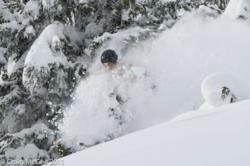 Small groups at CMH represent the equivalent of a heli-skier hitting the slopes in a chauffeur-driven limousine - a private powder paradise.
Banff, Alberta, Canada (Vocus/PRWEB) March 25, 2011
CMH Heli-Skiing, the company that invented the sport back in 1965, is widely recognized as having some of the greatest skiing in the world, is constantly dreaming up new ways to entice, challenge and delight its guests. In an effort to offer the most comprehensive selection of Heli-Ski trips available anywhere on earth, the company is unveiling some major tweaks to its skiing programs for the 2011/2012 season:
ADAMANT LODGE: EXCLUSIVE SMALL-GROUP HELI-SKIING
In the 2011-12 season, the Adamant Lodge will be inaugurated as the first CMH lodge devoted exclusively to small-group skiing. Small groups at CMH represent the equivalent of a heli-skier hitting the slopes in a chauffeur-driven limousine – a private powder paradise. The Bell 212 helicopter has been replaced by two Bell 407s, each of which handles just three groups of five skiers plus guide. The 407 offers supreme flexibility, can easily handle the pace of the hardest-charging crew and offers access to a terrific range of terrain choices. As an added bonus, Adamant small-group parties will pay the same high season pricing as regular groups did in 2010 – enjoying a private nirvana starting at just CAD$8,750 for 7 days.
MONASHEE LODGE: LATE SEASON MEANS SMALLER GROUPS AND MORE ROOM TO MOVE
For skiing steep, 1,500-vertical-meter runs in bottomless snow through towering trees, CMH Monashees is legendary. As the season progresses and the days get longer, guests are able to wander through this vast tenure, skiing superb drainages that are further from the lodge. As a result, instead of skiing the regular model of four groups of eleven skiers in a Bell 212 helicopter, as of February 18, 2012, the Bell 212 will operate with only three groups and a Bell 407 will be added to the mix to transport two groups of five each for a small-group program. Ski big days on big slopes. Prices start at CAD$10,440 per person for small-group skiing and CAD$7,820 in the regular groups.
SHORT TRIPS: FOR THOSE WHO NEED A FIX BUT DON'T HAVE 7 DAYS TO SPARE
Four- or five-day sessions are now available for each week of the heli-ski season in 2012 in at least one of CMH's eleven tenures – including shorter stays on the new small-group trips. Prices start at CAD$3,450 for 4 days and $4,250 for 5 days.
CMH NOMADS: SKI MULTIPLE HELI-SKI AREAS ON ONE TRIP
This is the chance to ski through multiple heli-ski areas in search of the most stellar skiing available on any given day and in 2012, more Nomads departures than ever will be on offer. Think of it as a Heli-Ski safari – jump in the chopper and go searching for the best snow. Nomads North operates out of Gothics Lodge and Nomads South operates out of Halcyon Hot Springs Resort.
CMH KOOTENAY: SAVE TIME AND MONEY WITHOUT SACRIFICING QUALITY
While none of CMH's lodges are exactly "easy" access (which, of course, is part of their appeal), Kootenay is the southernmost of CMH's tenures and it's an easy transfer from Spokane, WA, to Nakusp, British Columbia, where guests will stay at the Kuskanax Lodge. The skiing is awesome and the lodge has the added appeal of being in a funky small town environment. This program is simple – no fancy frills, no turn down service, just rocking good skiing, great food and a young, party atmosphere with folks who love to ski. CMH's motto for this trip is "maximum shred for minimum bread."
NEXT GENERATION WEEK: APRIL 7 – 14, 2012
Taking place at CMH's world-renowned Bugaboo Lodge, where Heli-Skiing was born, this week is open to any skier, but for those who have someone between the ages of 12 – 25 who want to join the trip, it's half price for half of the guaranteed meters – that's CAD$6,600 for 7 days with 30,500 meters of skiing for adults and for those 25 and under, CAD$3,300 for 7 days and 15,250 meters of skiing. Parents of children between the ages of 12 and 19 are expected to ski with their children.
AND THERE'S MORE….
Book by April 30, 2011 and get a credit of CAD$100 off the price of each day of your trip.
For more information, visit http://www.cmhski.com, or call: 1-800-661-0252.
About CMH Heli-Skiing & Summer Adventures:
Offering heli-adventures since 1965, CMH Heli-Skiing & Summer Adventures is the world's oldest and largest heli-skiing and heli-hiking operator. From their head office in Banff, Alberta, CMH operates exceptional mountain experiences at 11 lodges located in the Bugaboo, Purcell, Selkirk, Monashee, and Cariboo ranges of British Columbia, Canada. Heli-skiing takes place each year from December through April, and CMH Summer Adventures take place from July into early September.
# # #