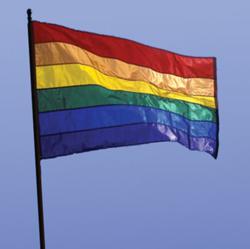 Working with an LGB individual may present challenges for healthcare providers, particularly those who do not identify as LGB and/or lack prior experience with this population.
Philadelphia, PA (Vocus/PRWEB) March 29, 2011
HealthForumOnline (HFO), a nationally-approved (APA, ASWB, NBCC, PSNA, CA-BBS) provider of online continuing education (CE) for psychologists, social workers, counselors, nurses and other allied healthcare professionals, is pleased to announce the addition of a new online CE/CEU course, Culturally-Competent Healthcare with Lesbian, Gay, and Bisexual (LGB) Individuals, to our extensive online CE/CEU resource library.
Lesbian, gay, and bisexual-identified (LGB) individuals are currently estimated to represent approximately 2-8% of the U.S. population. Course author Dr. Amy Van Arsdale notes that, "working with an LGB individual may present challenges for healthcare providers, particularly those who do not identify as LGB and/or lack prior experience with this population." Toward that end, this online CE/CEU course is designed to improve cultural competence for healthcare providers working with LGB individuals.
Specifically, this LGB-focused CE course distinguishes between the terms lesbian, gay and bisexual and presents health professionals with the continuum of sexual orientation, as well as the heterogeneity of the LGB population. LGB identity development across the lifespan is described along with its implications for the provider-patient relationship to provide a context within which health care providers can better conceptualize LGB patients' emotional and physical issues. How to recognize and address the major barriers for LGB individuals seeking culturally-sensitive mental and physical health care is discussed. Lastly, this online CE course identifies empirically-supported mental health treatment guidelines and strategies for working with LGB individuals and provides mental health practitioners with a variety of professional resources to assist in the continued development of their clinical skills with the LGB population.
This is the first online continuing education (CE) course that author Amy Van Arsdale, Ph.D. has written for HFO. Dr. Van Arsdale is an Assistant Professor in the Department of Psychology at Marymount University, Arlington, Virginia. Her clinical and research interests include counseling psychology, multiculturalism, career counseling, adolescent female sex offending and risk factors for juvenile delinquency. Dr. Van Arsdale is currently preparing another CE course for HFO entitled, Culturally-Sensitive Assessment and Treatment Strategies for Intimate Partner Violence (IPV). The topic of this upcoming CE course is also extremely relevant since 1 in 4 women will experience intimate partner violence in her lifetime, and such victims often present with a host of related mental and physical health concerns.
Psychologists, social workers, counselors, nurses and other allied health professionals can chose from HFO's 19 categories of continuing education (CE) topics related to health psychology and behavioral medicine (i.e., ethics, cancer adaptation, women's health, cultural diversity, eating disorders, reproduction/sexuality, aging/gerontology, pediatric behavioral medicine, assessment, chemical dependency, chronic/acute illness, clinical intervention, group therapy, infectious disease, long-term care, neuropsychology, pain management, spirituality, LGBT issues) containing over 70 online CE courses that are fast, convenient and cost-effective. All HFO CE courses and supporting materials are available online or as downloadable, transportable PDFs. Participants print their own CE certificates. Lastly, HFO routinely updates our online CE courses and enables customers to review these updates for free even after they have completed the CE activity and generated their CE certificate.
For more information on this course or a complete listing of titles in our online CE resource library, visit HealthForumOnline.com.
About HealthForumOnline:
HealthForumOnline (HFO) is approved as a provider of CE courses by the American Psychological Association, the National Board of Certified Counselors, the Association of Social Work Boards, and several state professional organizations, including the Pennsylvania State Nurses Association, an accredited approver by the American Nurses Credentialing Center's Commission on Accreditation, and the California Board of Behavioral Sciences. HFO's CE Program's Advisory Committee and authors are comprised of over 60 nationally-recognized experts in behavioral medicine.
###