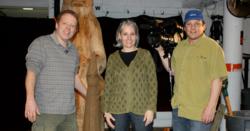 Granby, CT (Vocus/PRWEB) March 24, 2011
Ed Jarrett, Guinness World Record holder for the Tallest Sandcastle, has tapped the talents of Granby, Connecticut-based Rich Wright Productions to produce a documentary of his story – from his first sandcastle endeavor in 2003, which took the "tallest sandcastle" bragging rights from Finland, to his successful attempt to break his own record in 2007, which raised more than $100,000 for charity, to his current undertaking in Farmington, Connecticut to go even higher and raise even more money for those in need.
Emmy Award-winning editor and director of photography Rich Wright along with business partner, award-winning producer Michelle Leibovitz, have agreed to donate their services to produce a documentary about Ed Jarrett's attempt to break and retain the Guinness World Record for the Tallest Sandcastle.
"Projects like this one don't come along every day," says Rich Wright. "It's a once in a lifetime opportunity. There are so many stories to tell from the building of the Tallest Sandcastle to Saving Walton Pond to the way the community is coming together to support so many charities. We're thrilled to be partnering with Ed and the rest of the team to document this great story."
"Rich and Michelle do incredible work," says Ed Jarrett. "We are so fortunate to have found one another. Their involvement in this project is truly the icing on the cake."
Rich Wright Productions has produced documentary, marketing and employee communication programs for such clients as Connecticut Children's Medical Center, ING, Henkel, ASSA ABLOY and NOAA.
About Rich Wright Productions
Creating video for broadcast, business, and the web, Rich Wright Productions tells stories that move people. With more than 25 years' experience, state-of-the-art equipment, a creative and flexible team, Rich Wright Productions collaborates with clients to provide a professional and affordable finished product. For more information contact Rich Wright Productions at 860.413.9055 or visit online at http://www.richwrightproductions.com.
About Jarrett's Castle
In 2003, Jarrett built a sandcastle 29 feet, three inches tall, breaking the Guinness World Record for the Tallest Sandcastle for the first time. In 2007, he broke his own record, sculpting a castle 31 feet, seven inches tall. Never satisfied, on April 1, 2011, he will begin his quest to build a castle at least 35 feet tall while raising money for Save Walton Pond, Special Olympics Connecticut, Gifts of Love, New Horizons, and UCONN Children's Cancer Fund.
Sponsors include: Rich Wright Productions; Dunning Sand & Gravel, which will donate all the sand required for the project; Miner's Lumber, which provided some of the materials for the forms required to pack the sand; WardComm Public Relations and Sharon Mayock Graphic Design for marketing and public relations; Kostin Ruffkess; and the Farmington Field Club.
Those wanting to learn more and get involved should visit http://www.tallestsandacstle.com for additional details and contact information.
# # #