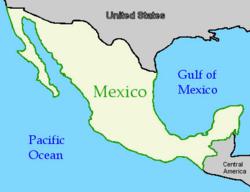 "We hope to make Mexico Online a catalyst to promote business and tourism in Mexico and to dispel the media generated hysteria about the so-called dangers of Mexico, and to prove that Mexico is wonderful place to live, work, and play." - Steve Schwab
(Vocus/PRWEB) March 30, 2011
Mexico Online (http://www.mexicoonline.com) was designed for expatriates in Mexico to connect with one another, share information, and to convey the positive aspects of living in Mexico. Currently the website has over 400 contributors and is continuing to grow. The site features blogs created by individual users that cover a multitude of Mexico related topics about living and doing business in Mexico. In addition to blogs, there are forums on a wide variety of topics, chat rooms, and classified ads with homes for sale or rent, and help wanted ads. There are also member created photo albums and videos, and member groups. The groups are broken down by location and interest. The site utilizes the latest web 2.0 technology and has a similar feel and function that Facebook offers, however it is customized to a more specific community of likeminded individuals.
There has been a great deal of negative media attention lately about drug violence in Mexico. Much of this is is occurring within a few small geographic areas, while most parts of the country are peaceful. Just as there are crime ridden areas within many American cities that would not prevent most Americans from living, working, or traveling to Los Angeles, Chicago, or even Washington DC. The same is true of Mexico, and one of the goals of Mexico Online is to demonstrate that Mexico is for the most part a safe place for Americans and Canadians. Steve Schwab the founder and CEO of Mexico Online stated, "We hope to make Mexico Online a catalyst to promote business and tourism in Mexico and to dispel the media generated hysteria about the so-called dangers of Mexico, and to prove that Mexico is a wonderful place to live, work, and play."
Steve Schwab is the President and CEO of Schwab Organization International Family of Companies which includes: Sea Side Reservations, Rocky Point Vacation Homes, Arizona Lodging Experts, and Realty Executives Mexico.
###