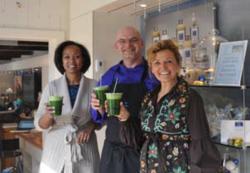 "We are thrilled to support many worthy causes in 2011," said Rosemary Devlin, founder, O2Living.
Cross River, NY (Vocus/PRWEB) March 24, 2011
O2Living, a natural health and wellness community offering a Live Food Café, therapeutic spa treatments, signature juice cleanses, all natural skin treatments and products, yoga, and meditation classes in Cross River, is pleased to announce the launch of its Drink of the Month Program.
Inspired by O2Living's mission to help more individuals develop and maintain a wellness-conscious lifestyle, the Drink of the Month Program will spread O2 Living's mission of wellness while supporting causes that are vital to the Westchester County community. Each month, O2Living's live food cafe will feature one of its all natural, fresh-pressed fruit and vegetable juices as the Drink of the Month. At the end of the month, a portion of the proceeds from all Drink of the Month sales will be donated to a local nonprofit.
Among the 2011 Drink of the Month benefactors, are:

January (Family Fit Lifestyle Month): Open Door Family Medical Center's Fit for Life Program
February (American Heart Health Month): American Heart Association – Westchester Region
March ((8) International Women's Day): Junior League of Northern Westchester
April (National Autism Awareness Month): Foundation for Educating Children with Autism
May (National Asthma and Allergy Awareness Month): American Lung Association – New York/Westchester
June (Cataract Awareness Month): Guiding Eyes for the Blind
July (Juvenile Arthritis Awareness Month): Arthritis Foundation – New York Chapter
August (Family Meals Month): Food Bank for Westchester
September (Childhood Cancer Month): Children's Cancer Fund
October (Breast Cancer Awareness Month): Support Connection
November (National Diabetes Awareness Month): Juvenile Diabetes Research Foundation – Westchester Chapter
December (National Safe Toys and Gifts Month): The Children's Village
"We are thrilled to support many worthy causes in 2011," said Rosemary Devlin, founder, O2Living. "It is gratifying to help so many people achieve a wellness-conscious lifestyle and rewarding to support nonprofits within our community along the way."
O2Living is located at 6 Yellow Monkey Village in Cross River, N.Y. To learn more about O2Living, call 914.763.6320 or visit O2Living online at O2Living.me or @O2living on Twitter.
About O2 Living (http://www.o2living.me)
Headquartered in Cross River, New York, O2Living is an all embracing community dedicated to lifestyle/wellness. Established as Cross River Wellness, LLC (d/b/a O2Living) this holistic spa and wellness center encourages people to live, learn and connect. It offers yoga, spa services, including signature Oxygen treatments, a retail boutique and Live Food Café nestled in Cross River's quaint Yellow Monkey Village. The wellness community also features an online destination, O2Living.me, where members can connect and communicate about their experiences and build a greater sense of community with those who share their passion for and commitment to health and well-being.
# # #