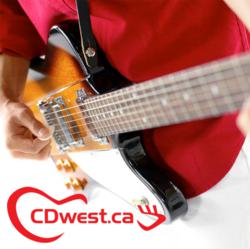 "This program is easy and care-free ... there's no obligation and no contract to sign"
(Vocus/PRWEB) March 25, 2011
In order to provide Recording Studios with a new revenue stream to explore, CD manufacturing company Precision Disc Manufacturing Corp. has launched a Recording Studio Referral Program through their audio division brand "CDwest.ca".
By joining the program Recording Studios can earn cash or credits-on-account for their referrals that place CD manufacturing orders with the company. "We want to make this program to be as easy and care-free for the Studios as possible," explains Andrew Thomas, the company's Marketing Director, "so our Recording Studio Referral Program partners are under absolutely no obligation to us – there's no contract to sign."
Participating Studios simply provide their unique Program identification number to their clients which the clients, in turn, provide to CDwest.ca at the time of order. Thomas continues, "One of the great things about the Program is that the Studios don't have to act as a middle-man between their client and us. Once the referral is made we work directly with the client, and when the CD manufacturing order is placed with us the Studio earns their referral reward."
Studio partners can either choose to cash-in their referral rewards for each order or they can bank them as credits-on-account to redeem later on the purchase or products/services that CDwest.ca provides.
"As soon as the Program was launched we had an immediate response, and we're looking forward to seeing the Program grow in the company weeks and months."
To learn more about the Recording Studio Referral Program please visit the CDwest.ca website.
CDwest.ca is the audio brand of Precision Disc Manufacturing Corp., a replication plant that provides full service CD and DVD manufacturing and duplication along with a wide range of the most popular eco-friendly print and packaging solutions in the industry. From their offices and replication plant located in Surrey, British Columbia (Canada) Precision Disc Manufacturing Corp. ships to clients throughout North America daily.
# # #