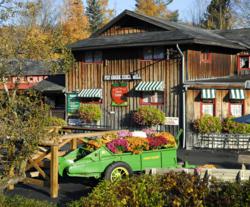 "We enjoy sharing our love of food with visitors and are pleased when they expand their palates with flavors they may not otherwise venture to try"
Fly Creek, New York (Vocus/PRWEB) March 24, 2011
Spring training might be underway in the south but in nearby Fly Creek the action is just getting started. The Fly Creek Cider Mill is busily preparing for its 155th season marked by history, traditions and tastes that visitors from miles around enjoy. Their historic, water-powered cider mill known for its original vintage equipment is also popular with New York's foodies. While apples, cider, cheese and fudge are the Mill's core products they continually increase their wide variety of specialty foods. Visitors now can enjoy daily tastings of more than 40 specialty foods including barbeque sauces, marinades, salad dressings, syrups, salsas, dip mixes plus apple wines and hard ciders. Now in their 12th year of ownership Brenda and Bill Michaels have developed the Mill into a food-lovers' destination through diverse products and programming targeted to creating a flavorful visitor experience.
Premiering this season are two sauces; 1856 Hot Habanero BBQ Sauce, a hot and spicy variation of their popular 1856 BBQ Sauce, and Pig on Pig Sauce, a sweet and spicy grilling sauce with bits of real bacon. "An avid griller I enjoy developing new sauces that complement a wide range of meats and even more fun is naming them," says Bill Michaels, co-owner of the Mill. Continuing this year is the Flavorful Rewards Program, a frequent visitors' card club that last season netted 6,000 new members and distributed more than $25,000 in free gift card awards.
This year's focused tasting weekends titled the Taste of Fly Creek Series will add flavored apple butters from Apple Grove Farms and deliciously creamy hot fudge sauces from Sundae's Best, both Pride of New York producers. Other Series Weekends include Dippity-Do-Da Days sampling the Mill's specialty dip mixes and Get Pickled, a weekend devoted to tasting a wide array of pickled products including popular pickled garlic. "We enjoy sharing our love of food with visitors and are pleased when they expand their palates with flavors they may not otherwise venture to try," says Bill. For a complete list of more than 35 weekend events visit their on-line events schedule at http://www.flycreekcidermill.com.
Joining the Mill in the Cooperstown's season opener are The Farmers' Museum, Fenimore Art Museum and the National Baseball Hall of Fame located just three miles away in nearby Cooperstown. The Fenimore Art Museum, the showplace of the New York State Historical Association, is opening with four new exhibitions including Frida Kahlo: Through the Lens of Nickolas Muray which features iconic photographs of the renowned and enigmatic Mexican artist taken by her ten year, on-again, off-again lover and famed photographer Nickolas Muray. The Farmers' Museum, just across the street, awakens with opening weekend specials featuring free admission for kids 12 and under plus free carousel and horse-drawn wagon rides April 1 through April 3. The National Baseball Hall of Fame, open year-round, is hosting a family weekend filled with live musical performances, hands-on activities, crafts, and demonstrations throughout the Museum all day long on April 2 and 3. Families will be entered to win prizes and giveaways including tickets to the 2011 Hall of Fame Classic.
For help in planning your trip to Cooperstown visit:
http://www.cooperstownbeveragetrail.com
http://www.thisiscooperstown.com
http://www.cooperstownchamber.org
# # #