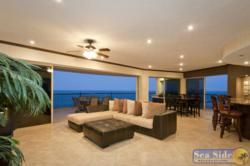 The concept is simple. If you take care of people and are receptive to their needs and wants, they will refer your company to friends and family. -Steve Schwab, CEO Seaside Reservations
Phoenix, AZ (Vocus/PRWEB) March 31, 2011
Seaside Reservations was founded 10 years ago as a small vacation property management company with 3 condos in Puerto Penasco, Mexico, also known as Rocky Point. What started out small has now grown to become the largest vacation property management company in Mexico.
The founder and CEO Steve Schwab has lead his company to success by creating what he calls an "Owner-Centric" philosophy into the very fabric of the business. Seaside Reservations spends thousands of hours every year training staff to ensure that every person that wears the uniform lives by the service standards that are considered non-negotiable under his leadership.
Seaside Reservations' success is attributable to putting clients first, personally responding to their requests and suggestions, essentially building relationships with the customer base.
In the past ten years Seaside has produced innovative custom solutions and technology that are truly one of a kind to the industry. The automation of many property management functions has lead to a reduction of human error when working in a fast paced environment. This reduction of error and ability to manage more with less resources had lead to many efficiencies that have proven to keep clients happier and overhead low.
Seaside has heavily invested marketing and search engine optimization (SEO) to its website http://www.seasidemexico.com with over 82,000 web pages indexed on Google. This kind of exposure combined with Seaside Reservations' commitment to guest satisfaction has put them at the forefront of the vacation property management industry. "The concept is simple. If you take care of people and are receptive to their needs and wants, they will refer your company to friends and family." -Steve Schwab, CEO Seaside Reservations.
Building upon Seaside Reservations' strong foundation, several independent property management companies have purchased franchises in locations such as Barra de Navidad, Riviera Nayarit, and San Carlos and now are reaping the rewards of increased exposure and access to state of the art reservation software. San Carlos Franchise Owner Roberto Gracida stated, "The resources provided by Seaside Reservations on the services we need to provide to our clients is very important to my business". All three franchises have reported higher occupancy rates since acquiring the brand, and attribute these increases to having access to a loyal repeat customer base and having the systems in place to facilitate transparency to owners.
The Schwab Organization International Family of Companies consists of:: Sea Side Reservations, Rocky Point Vacation Homes, Realty Executives Mexico, and Arizona Lodging Experts.
###