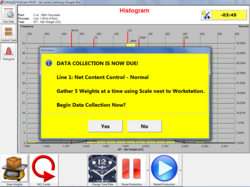 Never before have manufacturers been held to such standards—by the FDA and consumers alike.
Chantilly, Va. (Vocus/PRWEB) March 24, 2011
InfinityQS International, the leading provider of quality control software solutions, today announced that Doug Fair, vice president of statistical applications, will deliver a keynote presentation at the Innovations in Food Safety Conference in Harrisburg, Pa. on April 1. Fair will be featured in the "Profiles in Innovation" session which highlights mini-keynotes from three different perspectives in the food supply chain.
The presentation, titled "From Cradle to Grave: Ensuring Product Traceability," will focus on the importance of being able to track data across the full production spectrum from raw materials to the finished product. The introduction of the Food Safety Modernization Act (FSMA) by the Food and Drug Administration (FDA) has presented a strict set of guidelines on manufacturers and made the possibility of a recall even more costly. Fair will address ways to achieve complete traceability and will explore the tools available to provide greater manufacturing visibility to ensure compliance.
"Never before have manufacturers been held to such standards—by the FDA and consumers alike," said Fair. "My presentation will demonstrate the importance of being able to trace the origins of ingredients, even back to the original farm, to improve food product quality, avoid expensive recalls and comply with all FSMA regulations including HACCP, SSOP and others."
The presentation is scheduled for 10:50 – 11:50 a.m. on April 1 in Harrisburg, Pa. at the Harrisburg University of Science & Technology.
About InfinityQS
InfinityQS is the leading provider of SPC software and services to a broad array of companies, from multi-national giants to smaller, more specialized manufacturers. InfinityQS develops software solutions to help manufacturers to monitor, control and improve the quality of their manufacturing operations across a site, an enterprise or an entire supply chain, continuing to provide significant returns on their initial investment and increase productivity. The company's goal is always to improve clients' internal quality standards and ensure their continued success in the global marketplace.
# # #