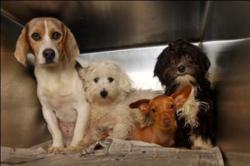 In a county like L.A., where there is a very high shelter euthanasia rate, it is just as important to limit the production of animals as it is to ensure that dogs in breeding facilities are well cared for.
Los Angeles, CA (Vocus/PRWEB) March 23, 2011
A new ordinance that creates stiffer requirements for canine breeding facilities in Los Angeles County is a good start, but more must be done in order to ensure that county puppy mills are eliminated, according to Elizabeth Oreck, national manager for Best Friends Animal Society, who oversees the organization's anti-puppy mill initiatives.
"The Board of Supervisors took a very big step toward improving the regulations regarding pet stores and breeding in LA County, and we were fortunate to be able to work on the new ordinance with county officials for the past three years," says Oreck. "There are definitely some meaningful, impactful components to the ordinance that will improve the lives of dogs and make it less likely that they will suffer in large-scale breeding operations."
But more needs to be done, says Oreck, who would like to see a cap on the number of dogs a breeding facility could have at any one time.
"This is a quantity issue as much as it is a quality issue," says Oreck. "In a county like L.A., where there is a very high shelter euthanasia rate, it is just as important to limit the production of animals as it is to ensure that dogs in breeding facilities are well cared for."
Breeding parents in L.A.'s commercial breeding operations spend most of their lives transitioning from one litter of pups to the next. There is no regulation on the number of litters a female can have in a given year, something Oreck hopes for in the future. In some of the worst puppy mill conditions, dogs spend the majority of their lives in small, wire-bottomed cages, often without adequate food, water or medical care or human contact.
"There are some very good things in the ordinance that will protect dogs in the future," she offers. "And we have the Board of Supervisors to thank for making it all possible. But down the line, we hope they will re-examine this ordinance to strengthen breeding regulations and include more provisions that will work on behalf of all dogs in general."
Oreck particularly likes the requirement that dogs not be bred until they are at least one year old, the disclosure of breeder license numbers in advertisements and the requirement for clean water, as well as increased inspections and mandatory 18-hour-per-day staffing of breeding operations that have more than 50 unsterilized dogs.
She acknowledges that it's impossible to put an outright ban on large breeding operations, but hopes that as time goes on the regulations can be stiffened, with the long-term goal of reducing euthanasia for dogs that, while being star attractions in pet stores, often find their way to shelters when buyers acting under impulse are no longer able to care for them.
Best Friends Animal Society has already been instrumental in helping convince a number of Los Angeles-area pet stores to convert their model to one that only offers shelter animals for adoption rather than commercially bred animals for sale. Best Friends continues to educate and inform LA-area citizens about puppy mills, where most pet shop puppies come from before they become that cute doggie in the window.
"We have raised a lot of awareness among the general public and we are starting to witness a cultural shift in how people view dogs and companion animals in general," Oreck says. "If one begins to view animals as individuals—living, feeling, and sentient beings—then the individual value placed on each individual animal life increases exponentially," she says.
Best Friends Animal Society, established in 1984, owns and operates the nation's largest companion animal sanctuary for abused and abandoned animals. For years, the Society has publicized and spotlighted its mission—reaching a time when there are No More Homeless Pets®. It also has national initiatives geared toward boosting the much-maligned reputation of pit bull terriers and a "feral freedom" initiative designed to save the lives of cats, the most euthanized animal in America's shelters.
"Our work will continue in Los Angeles and all throughout the United States," says Oreck, whose Pup My Ride program transports adoptable, small-breed dogs from overcrowded Los Angeles shelters to areas of the country where there is a shortage of these dogs available for adoption.
"Overall, we are pleased with the recent ordinance in LA County and it shows that the Board of Supervisors was serious about protecting animals who find themselves confined in large commercial breeding operations. But we will not rest until some of the remaining loopholes (no limits on litters or the number of dogs allowed in the facilities) can be closed.
"We've come a long way, but there is still more to do."
To become a fan of Best Friends Animal Society on Facebook go to: http://www.facebook.com/bestfriendsanimalsociety
Learn more about Best Friends L.A. programs at:
http://www.facebook.com/bestfriendsanimalsocietyla
Follow Best Friends on Twitter: http://twitter.com/BFAS
###