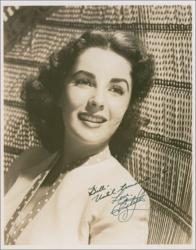 Taylor's 66 love letters to Pawley provide a window into the young starlet's personal life.
Amherst, NH (Vocus/PRWEB) March 24, 2011
RR Auction, an auction house based in Amherst, NH, will conduct its first-ever Vintage Hollywood Auction in May. The auction will feature an amazing tribute to Elizabeth Taylor, along with the Saul Goodman Collection.
As the world looks back and remembers the life and times of Liz Taylor—one of the last actresses of Hollywood's Golden Age, famous for her many love affairs and marriages—RR Auction will offer an unprecedented collection of 66 love letters handwritten by the icon.
With these priceless letters comes a rare glimpse into the mind of a legend and a newfound understanding of this misunderstood, larger-than-life celebrity. These heartfelt letters reveal a blossoming woman of 17, who—even though called the most beautiful woman in world—had insecurities just like everyone else. Much to the delight of movie buffs, other letters go into detail about two of her movies, A Place in the Sun and The Big Hangover.
Written during 1949 to fiancé William Pawley, Jr., the son of a wealthy American businessman and ambassador, they encompass her first engagement and perhaps even the beginning of her love affair with jewelry—since Pawley gave Taylor her first white diamond ring.
"Taylor's 66 love letters to Pawley provide a window into the young starlet's personal life," says Bobby Livingston, VP of Sales and Marketing for RR Auction. He adds, "The letters begin in March 1949, a few days after Taylor and her parents left their vacation home in Florida, where Pawley was located, for California so Taylor could work on a movie. The letters dry up around the middle of November of that year as their relation- ship ended."
Also to be auctioned are key items from the Saul Goodman Collection—which encompasses a spectacular range of items autographed by timeless icons such as Humphrey Bogart, Charlie Chaplin, Clark Gable, Carole Lombard, Judy Garland, George Burns and Gracie Allen, and Lucille Ball.
Those interested can register for the upcoming Vintage Hollywood Auction, which begins on May 12th and runs through May 19th. Meanwhile, a wide selection of items in RR Auction's current auction can be found by visiting http://www.rrauction.com.
About RR Auction
Established in 1976, RR Auction is known to collectors and dealers worldwide as the most respected auction source for guaranteed authentic autographs. For more information, visit http://www.rrauction.com.
To schedule an interview with Bobby Livingston, contact: Mike Graff, IRG, 212.825.3210 -
mgraff(at)investorrelationsgroup(dot)com
# # #