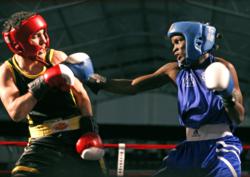 Mesquite, Nev. (Vocus/PRWEB) March 25, 2011
A team from Washington State captured four championships here Sunday leading the group to the overall title in the Golden Gloves Regional finals at the CasaBlanca Resort Event Center.
Taking titles for Washington were Jerrell Barbour (123), Andre Keys-McCane (141), William Maldonado (165) and Marquice Weston (178).
Washington ended up with 10 points, while Nevada had eight and Arizona had six.
Barbour took his title in a controversial win over Las Vegas boxer Luis Cortez, while Keys-McCane defeated Las Vegas entrant Kyron Butler.
Reno brothers Santos and Oscar Vasquez opened the day with victories in 108 and 114-pound categories. The third win by a Nevadan came when Las Vegan Andrew Tabiti beat Washington fighter Nwanne Njoku in the 201-pound category.
The Nevada winners were all repeats from 2010 competition.
The winners of the Golden Gloves Regionals advance to the nationals in Indianapolis April 24-30.
Washington Coach Tom Mustin said the victory this year offset a poor performance in 2010.
"We got shut out last year," said Mustin who retired from the Tacoma News Tribune in 2009 after working as a manager in final production for more than 41 years. "The nationals are going to be tough, but we'll be ready."
Mesquite's lone competitor in the finals was Brandon Everett, who lost to Washington's Marquice Weston in the 178-pound class.
"He had good range," said the 26-year-old Everett of the taller Weston.
The event drew a good following including a pair of executives with Top Rank, which is known as one of the top promoting arms of boxing. In fact, Top Rank is so entrenched in the game of boxing that it has promoted more than 9,000 fights on more than 1,500 cards in 22 countries spread over six continents.
Top Rank currently has 50 of the world's best fighters including 12 world champions.
"This is really a pure and clean form of boxing," said Bruce Trampler, boxing matchmaker for Top Rank. "We know some of the kids fighting, so we wanted to see them.''
Miguel Diaz, the head of the Latin American Department for Top Rank who has been involved in the fight game for decades, also lauded the event.
"It's good for boxing," said Diaz, "and it's also very good for Nevada."
Dawn Barry, the franchise holder for Washington, Nevada, Arizona and Oregon said the event was wildly-successful.
"Thanks to the CasaBlanca, it was very successful," said Barry, who has been involved in boxing since 1977. "They made it affordable for everyone to attend. In fact, had it not been for the folks at the CasaBlanca, we would not be able to afford to have a full team going into the nationals because we would not have had enough participants."
"We were happy to welcome back the Golden Gloves at the CasaBlanca in Mesquite," said Black Gaming General Sales Manager Michele Evans. "We're looking forward to their next event in July of this year and then the Senior Golden Gloves Tournament of Champions in May of 2012."
The Junior National Golden Gloves will return to the CasaBlanca Event Center for its fourth year July 18-23. The event is expected to draw about 500 competitors from all over the country.
2011 Golden Gloves Nationals
Sunday's Finals
CasaBlanca Event Center
Mesquite, Nev.
108 –Santos Vasquez, Nevada, def. John Tiijernian, Arizona.
114 – Oscar Vasquez, Nevada, def. Zach Drouin, Washington.
123 – Jerrell Barbour, Washington, def. Luis Cortez, Nevada.
132 – Clement Vega, Arizona, def. Nicholas Jefferson, Washington.
141 – Andre Keys McCane, Washington, def. Kyron Butler, Nevada.
152 – Luis Olivares, Ariz., def. Jimmy Kay, Washington.
165 – William Maldonado, Washington, def. Edgar Jimenez, Arizona.
178 – Marquice Weston, Washington, def. Brandon Everett, Nevada.
201 – Andrew Tabiti, Nevada, def. Nwanne Njoku, Washington.
201-plus – Dante Stone, Ariz., def. Rydell Gipson, Nevada.
CONTACTS: Dawn Barry, 702-368-2696; Michelle Yegge Evans, 702-994-7619; Mike Henle, The Idea Company Public Relations, 702-279-3483.
# # #